Shopping in Marbella and Puerto Banus
Marbella Shopping has it all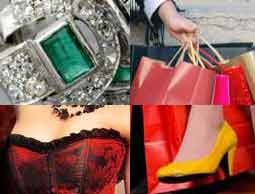 It is the playground of the rich and famous. As you would expect, it has an unusually high number of designer clothes and jewellery shops. But it also has several large shopping complexes, as well as hypermarkets, specialty food shops, accessory shops, interior decor stores and gift stores. Most of the top-end brands can be found in Puerto Banús and in the centre of Marbella on Avenida Ricardo Soriano. Marbella Old Town is great place to explore the gift shops and pick up some souvenirs to take home. La Cañada (pronounced Canyada), the main out-of-town shopping centre, has everything you'd expect, from clothes, sports and accessories shops to cinemas and restaurants. Spain's leading department store, El Corte Ingles, has a massive store at Puerto Banus. The best market is at the Plaza de Toros (Bull Ring) Nueva Andalucia and operates on a Saturday.
How and When to Shop
Unless you are in a hurry, the best way to explore Marbella's shops is by simply strolling through the streets. However, the following is a brief list of some of the better known outlets to help you locate that particular item you are looking for.
Stores in Marbella usually open between 9:00 a.m. to 10:00 p.m. Some stores close at lunchtime for siesta (1:00 or 2:00 pm) and they reopen at 4:00 or 5:00 p.m. However, larger shops are usually open even during siesta hours. Most of Marbella's shopping centers are closed on Sunday but smaller tourist type shops may well be open - especially in summer.
Summer Sunday Shopping From around 1st July, shops along the Costa del Sol and Andalucia start their peak season hours. It means most shops will be open seven days a week until around September 15th. This applies mostly to areas of great tourist influx (ZGAT), and benefits Torremolinos, Nerja, Mijas, Marbella, Manilva, Fuengirola, Estepona and Benalmadena. Popular centres like La Cañada (Marbella), Miramar (Fuengirola) and El Corte Inglés (Marbella and Mijas) will be open every day during this period.
Article continues below Ads ↓
Disclaimer
Here is a small selection of stores to give you an idea of what's available. A mention on this page does not constitute a recommendation of the services provided but just an indication of what is available.
Marbella Shopping
Puerto Banus Shopping
La Cañada Shopping Centre
La Cañada Shopping Centre is probably the most popular place to shop in Marbella, the main reason is it has free parking and everything under one roof..
It has one of the biggest Apple Stores in Spain and other big names are Hollister, Ted Baker, Adidas, Guess, H&M, Zara, Mango, M&S, Salsa, Guess Kids, Kiko MakeUp, SKINC & Dreisog Surf.
There is also a kids play area in the Car Park Called Camelot Park where you can leave your children to play whilst you shop.
There is a whole range of different types of shops including
Fashion & Accessory, Kids Clothes & Toy, Jewellery, Watches, Glasses, Perfumeries, Body Care, Sports, Electrical, Books, Restaurants & Cafes, Bowling.
La Cañada
El Corte Ingles and Hypercor at Puerto Banus
This is the only major department store in Marbella and you will find this chain in all the major cities in Spain.
El Corte Ingles is somewhere between Debenhams and Selfridges in the UK, selling everything you could possibly need. Hipercor is the large supermarket within El Corte Ingles on the ground floor where you can also purchase everything you need from food to furniture.
The Customer Service & Information Desk on the ground floor next to the main Hipercor entrance sells tickets for many different coach tours and excursions including passes for the Alhambra in Granada and day trips. They also offer tickets to forthcoming concerts and shows.
El Corte Ingles | Hypercor
Marbella Markets
If you like bargains, then shopping in one of Marbella's markets will be worth a try. All the markets in Marbella take place in the morning starting at 9am until about 2pm. Only heavy rain will stop the markets which is not often in Marbella. Everybody has fun at the market. The Puerto Banus and Nueva Andalucia markets are mainly for tourist selling arts and crafts, handbags, watches, clothes etc. The Marbella, San Pedro, and Ojen markets are more traditional and sell fresh fruit, vegetables and spices as well.
Market Venues
Marbella (Mondays) - Fairground, near the entrance to the Poligono Industrial.
Puerto Banús (Every Day in Summer) Central Square.
San Pedro (Thursdays) - Fairground, behind the town.
Nueva Andalucia (Saturdays) - Plaza de Toros, next to Centro Plaza.
Ojén (Saturdays) - Main square in the centre of town.
Just tell the taxi driver where you want to go.
Updated: 06/08/2019