Cycling in and Around Marbella
Best Time of Year
Cycling in Marbella is best done between the months of October and April when the weather is warm but not so hot as to cause de-hydration. See our Marbella Climate page for more info about the weather.
Article continues below Ads ↓
Cycling Opportunities
There are so many way to enjoy a good bike ride in Marbella. You maybe just want to ride in the city or along the fabulous promenade. Perhaps you want to do a bit of mountain biking or a more serious cycle ride into the mountains. Marbellla has it all.
Ride in Marbella City
Start at the beach and continue through the beautiful parks, the old town and many other points of interest in Marbella. Some of the highlights of Marbella are,:- its typical whitewashed buildings which are characteristic of Andalusia; Salvador Dali square; the mayor church and the fishermen's village.
Ride the Golden Mile along the Paseo Maritimo (Promenade)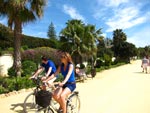 This is a relaxed bike ride along the coastline of Marbella to the famous and luxurious port of Puerto Banus - regulary visited by the rich and famous. You will pass the 'Golden Mile' of Marbella, an ancient Roman villa and many other magnificent sights. Enjoy beautiful views over the bay of Marbella, feel the refreshing sea breeze on the beach promenade, Visit the Mosque of Marbella – the first ever built in Spain.

Take a Tour
Why do a bike tour? See the best highlights in just a couple of hours. Professional local guides who know everything about the city and share the best insider tips. Be healthy and active in a fun, cultural way. A great activity for the whole family. Choose Baja Bikes.
Bike Tours Marbella also offer several bike tours in Marbella including the City Bike Tour Marbella, the Puerto Banus Bike Tour and a Wine & Tapas Bike Tour.
How about Mountain Biking
Experience the thrill of mountain biking in the heart of rural southern Spain. In the Sierra De Las Nieves, Sierra Bermeja Sierra de Grazalema, the single-track trails connecting the collection of white-washed mountain villages will give you a dry rocky ride. For centuries these paths have been used by the locals. It's best to use guides that are qualified in leading bike groups and in mountain first aid. For instance, Marbella Mountain Bike Tours conduct tours at your speed, whether you are an expert or just starting mountain biking, their expert guides will adapt their pace to you, so you get the most return out of the adventure. Generall costs include helmets, qualified guides, surveyed routes, bottle of water and support vehicle. Accident and liability insurance is a must.
Serious Cycling
You may like to try a serious ride like a ride to Istan. This is a 34.13 Km ride rising 414 metres. This provides a great climb giving the chance for perfect rhythm. You will see lots of other cyclist on the route. On Map My Ride you will find 138 routes and 12 courses in and around Marbella
Have a Great Time