Marbella Party Venues
Marbella - Party Capital
Marbella is famous for it's parties. Every year they get bigger and better and next year is revving up to be the best yet! Usually full day events of the most beautiful people, best music , the sexiest dancers and as much wine, beer and Champagne as you have ever imagined!!!
NIKKI BEACH MARBELLA

Nikki Beach Marbella is part of a worldwide luxury beach club. Spend the day or night at the beach taking in everything cool, sexy and glamorous. Partake of globally-inspired cuisine, join the coolest crowd at the hottest parties, against a backdrop of swaying palms and exotic oversized bamboo beds. Sip champagne cocktails on the VIP terrace, and dance to the all-day music of Nikki Beach's world-class DJs and live musicians. Do not miss Nikki Beach's famous Amazing Sundays. They attract up to 1000 people in the height of the summer - the ultimate beach party experience. Nicki Beach is located on one of Marbella's finest beaches just a ten minute drive east from central Marbella.
Article continues below Ads ↓
Nikki Beach has the most professional and enthusiastic events team and the most talented chefs at the ready to whip up a glorious event to remember whehter it's an intimate dinner for two, a party with family or friends, a landmark celebration or a full-on corporate event.
The Grand Opening White Party is a nightlife legend in Europe and is seen as heralding the "official start" of the summer season. Join the lamorous partygoers all dressed in white, partying under an early summer breeze and enjoying an amazing display of entertainment from circus performers and acrobats, DJs, go-gos and fire-throwers through to out of this world live musicians, dancers and bands.
Nikki Beach is also a magnet for celebrities enjoying the delights of Nikki Beach Marbella, the ultimate location for relaxation, partying and people watching. A varied programme of irresistible parties and top-class entertainment keeps the Nikki Beach groove fresh all-summer long, with monthly Full Moon parties, Miami Vibes nights, The Champagne World Tour, along with the Moonlight Dinner Experience for glamorous fine dining throughout June, July and August, anytime of the night or day is good to enjoy the exclusive delights on offer at Nikki Beach Marbella.
Read more abour Nikki Beach Marbella
SINTILLATE MARBELLA

Hosting the best club nights and events in Marbella since 2003, Sintillate changed the face of partying in Puerto Banus when they came to the port in 2003 and brought with them a loyal following from the UK as well as several celebrities. Now in their 11th season, Sintillate remains the original and one of the best!
Sintillate's aim is to provide an environment where the fashion, music and film industries could mix in a relaxed, friendly atmosphere fuelled by cutting edge music. Sintillate say that they are all about 'accessible exclusivity'. Sintillate were the first to take photos of guests at parties and upload them onto their website for their guests to view.
Sintillate have won multiple awards over the years. In 2012, SINTILLATE hosted private parties for pop groups Little Mix and The Wanted and regularly welcomed the 'who's who' from the music industry at their parties, including One Direction, JLS, Bruno Mars and Drake. Other celebrities have included TV personalities from Hollyoaks, Coronation Strees and Eastenders, Katie Price, 'Magician Impossible' Dynamo as well as multiple sports stars including some of Team GB and world boxing champions Joe Calzaghe and Amir Khan.
Read more about Sintillate Marbella
SALA BEACH

Lovejuice pool parties at Sala Beach in Puerto Banus were recently voted the Number 1 Most Insane Pool Parties in the World by Elite Daily. Sala Beach located close to the Marina of Puerto Banus and the town of Marbella is the perfect beach front venue for all your party and special function requirements. They can cater for all your special days, weddings, birthdays, product launches, company incentives. Whatever your requirements those at Sala Beach have the experience to ensure all aspects of your event go as smoothly as possible. They can also assist you in numerous other areas including transportation, accommodation and entertainment both on the day and during your stay on the Costa del Sol. Their al fresco restaurant offers various alternatives from their appetizing selection of dishes including fresh seafood platters, Thai fusion cuisine and sushi to a light bite and all tastes in between.
Marbella's first boutique beach club, it will help ensure you have the best experience on the coast. Sala Beach also hosts numerous day parties throughout the summer, as well as being the perfect place to chill in the day. This year, they'll be hosting their infamous (and free!) Love Juice parties again, which are also not to be missed and attract a celebrity crowd year after year.
Kisstory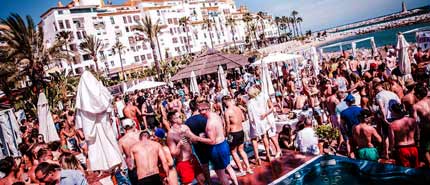 KISS FM is the home of old school tunes and proper dance music anthems. For the first time ever they will be bringing an exclusive Kisstory residency over to Plaza Beach in Marbella on Mondays and Fridays all season long, kicking off on 2nd May 2016. DJs include Rickie & Melvin, Shortee Blitz, Dixon Brothers, DJ Swerve, Steve Smart,Alex M, DJ MK, Justin Wilkes, Nev ,Billy Da Kid, Wideboys, AJ King and more. The guys will be spinning from 1pm in the afternoon until late from the beachside DJ booth, allowing you to get proper into it on the dancefloor, or throw the odd cheeky fist pump from your sun lounger. Venue: PLAZA BEACH The new look has transformed the venue into a luxury Beach Club complete with Super Jacuzzi Beach Beds, VIP Cabana beds and full Bar and Restaurant facilities. Located right next to the main entrance to the Port. Plaza Beach is hard to miss for anyone looking to enjoy some day time fun in the sun.
Party Central
All the parties you can imagine at Marbs Parties