Walking in and Around Marbella
Best Time of Year
Walking in Marbella is best done between the months of October and April when the weather is warm but not so hot as to cause de-hydration. See our Marbella Climate page for more info about the weather. Normally the weather is quite good in October but do take in to account sun and rain. You will not always be walking in the shade, a hat and sunscreen are a necessary part of your equipment.
Walk the Golden Mile from Marbella to Puerto Banus
The walk is about 7.6km (4.8 miles) and should take less than 2 hours at a brisk pace, but with sightseeing it could take a lot more. Fortunately, you will pass our apartment about half way so you could drop in for a rest if you happen to be renting it that week.
Read More
Article continues below Ads ↓
Marbella 4 Day Walking (M4DW)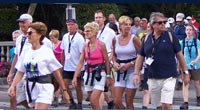 A popular event in the Marbella walking calender is the "Marbella 4 Day Walking" (M4DW) event held in October each year. The weather in the south of Spain is still perfect, no too hot and not too cold, a great time for walking. Walkers from all over the world, arrive to discover the unknown sides of Marbella. The Terrazas del Puerto Deportivo, near the historic city centre, is normally the starting point for the 20 and 30 km routes which lead you through the city, the countryside and along the beach. On the last day, walkers are welcomed back to the finishing line with loud cheers. You can participate on all four days but it is also possible to choose the days that suit you most. In short: a perfect opportunity for a holiday!
Read more about M4DW
Trails around Marbella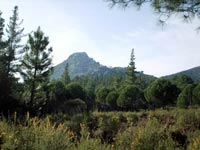 For the more adventurous who prefer to strike out alone or with a partner, try some of the beautiful trails around Marbella. There are trails and walks to enjoy in the areas of Marbella, Ojen, Istan. All these walks have great views of mountains and the sea. Visit all different ecosystems, rich in flora and with great wildlife. Different trails are recommended at different times of the year.
Marbella trails include: Marbella - Refugio de Juanar (Ojen); Marbella - Puerto Rico - Juanar viewpoint; Marbella - to the Los Monjes ruins; Refugio de Juanar (Ojen) - Mirador (Juanar viewpoint); Refugio de Juanar (Ojen) - Summit of La Cruz de Juanar; Trail El Pozuelo; El Cerezal - Refugio de Juanar (Ojen); Refugio de Juanar (Ojen) - Istan; Refugio de Juanar (Ojen) - Refugio de Juanar (Ojen) over the Viborilla; Refugio de Juanar (Ojen) - La Concha; Marbella seaside trail; Marbella - Istan; Istan - Picacho - Currito - Istan. Information about all these trails can be found at MarbellaTrails.com