Family Activities in and around Marbella
Family Holiday - Not all bling and celebrities
Marbella is not always thought of as a place to take the family on holiday. It's true that high end celebrities flock to take advantage of the 320 sunny days a year to top up their Eurotan. And a place where the rich go because of its swanky designer emporia and megayachts.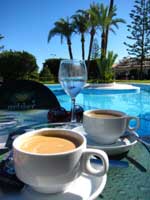 Marbella is where Old Spain meets New Spain with a well developed infrastructure making it is easy to find something to do for the whole family. Marbella is known for its reliable weather too. There are only a handful of rainy days between June and September and none at all in July and August. Your kids will find plenty of children of all nationalities to play with by the pools, and you can watch them all splashing and shrieking while you sip your Sangria close by. In the afternoon, you can indulge in the simple pleasure of shopping for fans and the mandatory flamenco dolls. Marbella can be relaxing too. Why not take a leisurely stroll along the esplanade to Puerto Banus for its great beaches.
Marbella and the Costa del Sol offer families a diverse and exciting location to experience unique indoor and outdoor activities. There are plenty of options to keep you and your kids entertained. You might be looking for workshops to boost your kids' creativity or perhaps a play centre where you can enjoy a coffee while they can roam free.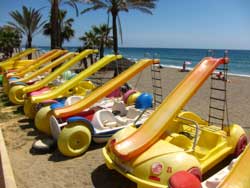 And it is not expensive as you might think. The local town hall (ayuntamiento) is always organizing free events for the local community and tourists. You may check out the calendar of events on their website at Marbella Ayuntamiento. There are lots of free things to do like visit Orange Square in the Old Town, the Donkey Sanctury, the Bonsai Museum, and of course the many beaches in Marbella are free and your kids will love the unique elephant showers on beach. See our Free Things to Do page.
The range of family activities shown below is just a fraction of what is available and includes amusement parks, water parks, animal parks, aquariums, city tours and fairs.
A link on this page does not constitute a recommendation of the services provided but just an indication of what is available. Each link opens in a new window.
Article continues below Ads ↓
Amusement Parks
Tivoli world - You'll enjoy new exciting rides and a lot of varied shows at the different squares, tasting all the gastronomic options in our themed bars and restaurants, meanwhile you enjoy the parks magnify atmosphere.
Funny Beach - Spend an action packed day at this beach resort. They offer banana boats, go-karts (+6 yrs), bumper cars, bumper boats, trampolines, arcade games. It is on the beachfront with pool, restaurant, and more.
Fuengirola Adventure Golf - This 19-hole miniature golf course is located just 20 minutes from Marbella. The water interacts with the golf in 10 holes out of the 19, offering a great way to spend a sunny day for the whole family.
Teleferico Cable Car - Benalmadena - The Teleferico Benalmadena is a 15-minute cable car ride that takes you from Benalmadena Costa to the summit of Mt. Calamorro offering spectacular views of the Costa del Sol.
---
Water parks
Bahia aquapark - Algeciras - An expansive water park which offers rides, kiddy pool, intertubes, activity pool, wave pool, cafes and picnic area. Feel the exhilaration with rides such as the "Grand Niagra" , "Kamikaze" and "Adventure River" which are suitable for all ages.
Aqualand Torremolinos - Aqualand Torremolinos offers 14 different attractions that are suitable for both smaller and older children. Little ones can play in the Minipark on minislides while older kids will love having a race down the Crazy Race or go back and forth on the Boomerang.
Parque Acuatico Mijas - Attractions such as Kamikaze, Adventure River, and Labyrinth Slides. Kiddie Slides and Lizard Island are more low key and fit for younger children. This water park also offers a rock climbing wall, mini golf, bar, self-serve restaurant, gift shop, massage services, and performance stage for live shows.
---
Animal parks
Selwo aventura - This wildlife adventure park of one million square meters offers its visitors the chance to see over 2000 animals from every continent roaming in semi-free conditions. Just 15 minutes away from Marbella.
Fuengirola zoo - Bioparc Fuengirola champions a new model of zoo based on respect for nature and the preservation of natural species, a model which has already established itself as a flagship for Europe.
Crocodile Park Torremolinos - Situated in Torremolinos, the heart of the Costal del Sol. In Crocodile Park you will find yourself in front of prehistoric monsters which have miraculously survived 200 million years of evolution - carnivores which knew the dinosaurs and use the distance of less than 2 metres, you can wonder at the gigantic crocodiles by silently walking beside them.
Lobo Wolf Park Antequera - This is fascinating wolf park is unique place where you will find four of the most interesting subspecies of wolves in the world. Located about 1.5-2 hour drive from Marbella in Antequera .
Donkey Sanctuary - El Refugio del Burrito is a registered Spanish Non-Profit Association working to improve conditions for donkeys and mules in Spain. Our Fuente de Piedra Farm is open to the public every day of the year, entrance is free of charge.
Mariposario de Benalmadena Enjoy the newest park on the Costa del Sol, more than 1,500 butterflies from all over the world flying free around you in a tropical environment.
---
Aquariums
Selwo marina - Selwo Marina, in Benalmádena, is an innovative concept in fauna parks, exhibiting the most representative species of South America. It has the only Dolphinarium and Ice Penguinarium in Andalucia.
Sea Life - Enjoy our interactive area, touch and learn; Experience our Amazing Rockpool- Hold a crab and touch a starfish; Walkthrough our amazing ocean tunnel full of Sharks and giant Green Turtle; Feed the Rays; Daily talks & feeding demostrations; Café with beach views; Fun Play Zone for kids; Pirate themed mini golf (additional charges apply); Take part in our daily activities: games, face painting, balloon modelling, interactive talks and much more!
---
City Tours
Marbella City Train Tour - Trenecito de Marbella, the Marbella Tourist Road Train (Tren Turistico de Marbella) is a fun way to tour around the Old Town. In about 25 minutes you will see some of the top sights in the city centre.
Marbella Horse Carriage Tour - A horse & carriage ride is a sophisticated way to tour the sights of the city. Take the whole family for a magical ride which start right in the heart of Old Town Marbella.
Marbella Segway Tours - Marbella to Puerto Banus along the promenade. Enjoy a new concept of sightseeing with the wonderful guided tours using a Segway. The Marbella Segway Tour is approximately 90 minutes. The Price per person is €50
---
Fairs
Ferias/Fairs in Spain - Every year each city in Spain holds a fair or "feria", which is usually a week long celebration that takes place in city squares or fairgrounds and is a big part of the social and religious calendar.