Food and Cuisine in Marbella and Andalucia
Mediterranean Diet
Andalucia is best known for its sunny weather, beaches and flamenco. But food is a hugely important part of southern Spain. The Mediterranean diet was recently recognised as being part of UNESCO's world cultural heritage. It is so reasonably priced in Marbella and most parts of Andalucia. Spain's chefs are widely acknowledged as being among the best in the world.
Article continues below Ads ↓
Ancient Recipes
Recipes go back as far as the 9th to 12th Centuries, when the Arabic influence in Andalucia introduced yeast soup, baked calves head, honey baked sweets, cous cous dishes, wild game and the ever popular ´guiso de lentejas´ or lentil stew, which is still served widely today. Aubergines were also used extensively in early Andalucian cuisine, and it is thought that ´Aubergines baked with honey´ originated from the Moorish influence in this part of Spain.
Seafood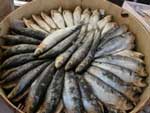 The consumption of fish and shellfish is rather high and includes local white shrimp, prawns, murex, anchovies, baby squid, cuttlefish, crab, flounder, smelts; etc. Andalusian cuisine includes also some unusual seafood like ortiguillas which is sea anemones in batter.
All along the coastline of Andalucia you will be served freshly landed seafood and fish. Sardines are always popular and can often be found being grilled on the beach itself outside frontline.
Cured meat, fresh fish and tasty sherry may seem like rather simplistic delicacies but in Andalucía it is the subtle flavours that capture the hearts of many.
Frying in Andalusian cuisine uses local olive oil. The foods are dredged in flour which often contains chickpea. Examples would be Puntillitas, battered and fried baby squid.
Fritura is fish and/or seafood fried in thin batter. The pieces of fish are thinly battered and the finished product crisp and dry enough to serve on a paper napkin without leaving grease stains.
Jamón and Manchego Cheese
Two of the many famous delicacies are jamón and Manchego cheese.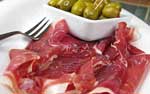 Jamón Ibérico is the king amongst hams is produced from pigs who roam the countryside and feed on acorns. The ham is cured for between 14 and 36 months. Jamón Serrano, mountain ham, is eaten widely throughout Spain, and is made from the meat of different breeds of white pigs that are fed mainly cereals. The ham is cured for between 7 and 16 months. So revered is the jamón in Spanish culture, that there are many ham museums, around Spain.
Manchego Cheese is made in the La Mancha region of Spain, with milk from manchega ewes, and aged for at least 60 days. The harsh, dry climate of La Mancha encourages tough plants to grow, which are then eaten by the manchega ewes, and the resulting cheese is both unique and delicious.
Typical Andalucian Dishes
Pescaito Frito - fish (blue or white fish) in flour and deep fried in olive oil then sprinkled with salt as the only seasoning.
Gazpacho - the famous chilled soup is ideally suited to the heat of the Andalucian summer. It is made from breadcrumbs and pureed summer vegetables, usually tomatoes, cucumber, and peppers and flavoured with garlic, vinegar, olive oil and seasoning.
Salmorejo - a cream consisting of tomato and bread, originating in Cordoba (Andalusia) in the south of Spain. It is made from tomatoes, bread, oil, garlic and vinegar.
Pringá - roast beef or pork, cured sausages such as chorizo and morcilla, and beef or pork fat slow cooked for many hours until the meat falls apart easily.
Oxtail - Oxtail is a bony, gelatin-rich meat, which is usually slow-cooked as a stew or braised. It is a good stock base for a soup.
Prepared Olives - Both black and green; often given free with drinks
Alboronía – stew made with eggplant, garlic, onion, pumpkin and crushed nuts, such as almonds, walnuts or hazelnuts.
Poleá - porridge made with water and flour , flavouring it with salt , aniseed , milk and sugar when cooked.
Some other Andalusian dishes
Flamenquín - pieces of pork loin wrapped with slices of jamón serrano, coated with breadcrumbs and egg and then deep-fried.
Ajoblanco - cold soup made of bread, crushed almonds, garlic, water, olive oil, salt and sometimes vinegar. It is usually served with grapes or slices of melon.
Pipirrana - refreshing salad made from seasonal vegetables finely chopped and seasoned with vinegar and oil, often accompanied by tuna belly,
Habas con calzones – very tender beans
Huevos a la flamenca - eggs and vegetables often served in a hot clay pot.
Alcauciles rellenos - artichokessStuffed with minced meat.
Gachas - an ancestral basic dish from central and southern Spain. Its main ingredients are flour, water, olive oil, garlic and salt.
Tortillas de camarón - crispy shrimp fritters made from masses of tiny shrimp help together in a fine crispy matrix of chickpea and wheat flour, flavoured with parsley and a tiny bit of onion.
Puchero – stew made from chickpeas; rice or noodles; beef, veal, and/orchicken; bacon; pork ribs; salt; bone of jamón serrano; potatoes; and various vegetables such as cabbage, celery, squash, chard,carrots, and turnips.
Tortilla de patatas - a thick egg omelette made with potatoes and fried in olive oil.
Rabo de toro - bulls tail with a tomato based sauce.
Cazuela Malaguena - soup made from clams and fideos(a Spanish noodle similar to vermicelli).
Remojon - a salad made from salted cod, oranges and olives.
Mojama - an exquisite delicacy and another culinary legacy of the Moors. Fresh tuna is cut into strips, rubbed in salt and left to dry in the sun.
Parillada - a selection of griddled fish and seafood. The commonest way of cooking fish is "a la plancha", simply griddled and served drizzled with olive oil, garlic, lemon and parsley.
Pescado a la sal - a whole fish cooked in a block of salt.
Tortillitas de camerones - small flat fritters made from flour and egg flavoured with the tiny Càdiz prawns.
Moros y Cristianos - (moors and christians) rice with black beans, which reminds us of the strong arab influence in Andalucia, long occupied by the moors
Desserts
Andalusian desserts are heavily influenced by medieval Andalusian cuisine.
Notable dishes include:-
Pestiños de Miel - deep-fried pastry bathed in honey
Alfajores - traditional confection in the form of a small cylinder containing flour, honey, almonds and several spices, such as cinnamon.
Amarguillos - almond macaroons
Polvorones - almond cookies
Wine doughnuts – doughnuts dunked in wine
Torrijas - toast served as a sweet dish, milk, sugar, or cinnamon are also commonly added before frying. It may be topped with sugar, butter, fruit, syrup, or other items.
Sherry & Wines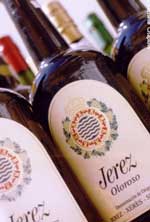 A range of fortified wines made from the palomino fino grape on the chalky soil around Jerez, Sanlucar de Barrameda and El Puerto de Santa Maria. Sherry does not come in vintages but aged in a "solera" system where the wine drawn off from the oldest barrels is topped up from the next oldest and so on. This gives both a complex wine and a consistent one.
For drinking on it's own:-
Amontillado - darker and nutty. Serve slightly chilled.
Palo Cordato - a rare type with a raisin palette.
Oloroso - mellow and nutty.
For seafood or ham:-
Manzanilla - fresh, crisp and salty, made from coastal grapes at Sanlucar de Barrameda - great with tapas, seafood or on its own.
Fino - light clean aperitif wine. Serve chilled.
Sweetened:-
Pale Cream - a fino sweetened with Ximenez grapes that have not been sun dried.
Dessert wine:-
Pedro Ximenez - heavy dessert wine, perfect with raisins and ice cream or in mozarabic sauces.
Table wines:-
In Andalucia, if you want a change from sherry, there are unusual white table wines made from sherry grapes including Castillo de San Diego and Marques de las Sierras.
Eating Out
Eating in Spain is taken very seriously, and the quality of the food is paramount. Whether you want to sit at one of Marbella's top tapas bars with a dozen fresh oysters, or you fancy some fried squid in a beach bar, you will find it all and more in Marbella. So eat like the locals. Enjoy your food, relax and soak up the atmosphere.
If you're at the beach, head to your nearest chiringuito - beach-side restaurant.
Being so close to the Mediterranean, fish features on many menus on the Costa del Sol, and you can see the catch coming to shore at the fishing port in Marbella. Many of Puerto Banus's top restaurants specialize in fresh fish and seafood, including the wonderful Marina side restaurants.
Eating In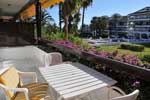 If you choose to eat at our holiday apartment, then the balcony would give you the Andalucian ambience. You have a great choice of ingredients, all produced on your doorstep, here in Andalucia: fresh seafood , locally grown fruit and vegetables of first quality; jamon serrano, ideal for an Andalucian breakfast, on toast with olive oil and crushed tomato, or a sandwich.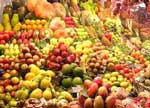 If you are buying your own ingredients then the local weekly markets are awash with fresh vegetables and fruit. You will also be well supplied with fresh fish, plentiful pork, great gazpacho and superb serrano ham. Dishes use the best locally grown produce. Olives, almonds, lemons and oranges are used in cooking or in refreshing salads.
Enjoying a fabulous warm climate, with over 320 days of sunshine a year, Andalucia is home to the world famous chilled soup, gazpacho. A personal favourite, gazpacho is made with fresh tomatoes, olive oil, onions, garlic, peppers, and is usually served with chopped vegetables and bread. Simple, healthy and delicious and very refreshing on a warm Summer´s day. Cold almond soup with garlic is another favourite.
Andalucian Recipes
Dorada a la Sal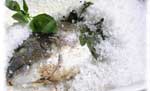 Take enough salt to bury the fish, put half the salt in a large casserole and make a depression for the scaled and gutted fish, which is then buried. A little water can be sprinked on the salt to consolidate it.Cook in a medium oven for about 40 minutes for an average sized fish. Break open the salt and serve with potatoes.
Gazpacho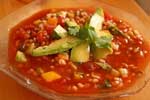 Soak a slice of bread per 1 lb of tomatoes for an hour
ripe plum tomatoes skinned and seeded
1 garlic clove per pound of tomatoes
a little good Spanish extra virgin olive oil
a good splash of good sherry vinegar
salt
1 cup of water per pound of tomatoes
blend and refrigerate
serve with bowls of chopped onion, cucumber, green pepper &
and olive oil crutons.
Clams in Sherry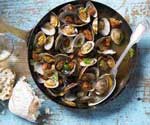 Fry finely chopped onion and garlic in olive oil, add seeded, skinned and chopped plum tomatoes and some paprika. Cook down and then add dry sherry (try dry oloroso). Bring to the boil and then add the clams and cook until opened. Serve with bread.
Images of Andalucian Food
More images of Andalucian food on our Pinterest Spanish Food board.