Trip from Marbella to La Cala de Mijas
Great Family Destination
La Cala (the cove) is a charming village which lies on the Costa del Sol. This old fishing pueblo has remained largely unspoiled by mass tourism. The long beaches of soft golden sand are clean and well cared for. Whilst La Cala has maintained a feeling of the real Spain, it has also taken on an international aspect with top quality restaurants and facilities. Walk around the old fishermen's houses which have now been turned into beautiful homes and holiday rental apartments. The flowers in the gardens are amazing. It's also the start of a 7km costal promenade that ends at Cabopino.
The Beach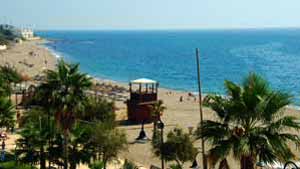 The soft golden sands and the gently sloping shore are ideal for families with children of all ages. Watersports can be enjoyed at the curved eastern end of the beach, and the thriving promenade is lined with lovely restaurants, bars, cafés and many gift shops selling brightly-coloured lilos, postcards, ice cream and all manner of beach kit. A pirate ship playground is located along the beach walk promenade, and it is a big hit with the kids, when they need a break from the sand and sea.
The town Centre
La Cala's town centre has fountains for roundabout and manicured tree-lined avenues. The main thouroughfare runs parallel to the beach. Here you will find British-style cafeterias serving all-day English breakfasts together with traditional Spanish restaurants and bars. Every Wednesday and Saturday you can walk to the local market, where you can purchase anything from fresh produce, to clothing, jewelry, and everything in between.
Torre Bateria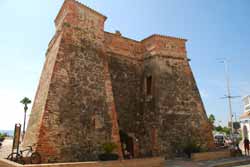 This is one of a series of medieval towers that dot this stretch of the Costa del Sol coast. It is a 'horseshoe fort' due to its elongated semi-circular ground plan with two oblique spurs or hornwork at the back. It is built with masonry, which were known as "stone and mortar works". Its layout inside is comprised of two floors and a roof terrace. The surface areas of these rooms increases as we go up while the thickness of the outer walls decreases. The 1 euro entrance fee is well worth it as you can watch a short film about these towers which were used to defend this part of the coast. You can also go up to the roof terrace on top of this tower which gives amazing views of the beach and hills surrounding this pretty town/village.
Coastal Footpath of Mijas
The costal path stretches 7km from La Cala to La Luna beach, close to Cabopino. It's more of a promenade that is suitable for walking, cycling or wheelchair use. It passes through a stunning stretch of coastline with diverse landscapes. You will also find superb tourist services on the way with beach bars and good restaurants. The walk takes you around the coast with fabulous boardwalks to avoid rivers, sand dunes and craggy outcrops of rock. You will pass watchtowers of cultural and historical interest, Mediterranean coastal sand dunes hosting species of protected flora and fauna, and spots for whale, dolphin and seabird watching.
Getting there
Catch the 220 bus service to Fuengirola (every 30 mins) from Marbella Centro or the Old Town. Journey time is about 45 minutes.
Have a nice Day
Another great trip from our apartment in Marbella