Marbella - not just for the International Jet Set
Andalucian Ambience
Marbella is a city which offers not only an International jet-set scene but also a typically Andalucian ambience. Stroll around the beautifully managed parks and gardens or the narrow streets of Marbella's romantic Andalucian Casco Antiguo (Old Town), steeped in history . Everything you could need is found here surrounded by an incomparable landscape of sea and mountains and with an enviable climate too!
Article continues below Ads ↓
Los Naranjos Square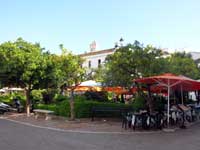 Los Naranjos Square (Orange Square) is an appealing spot situated in the centre of the city. It is surrounded by notable buildings and attractions. Los Naranjos square also known as Plaza de los Naranjos was built in a classic renaissance style. It is the perfect place to walk back and re-live the historic times by visiting the historic fountain and a chapel built in the 1400s. As you walk along the many narrow streets you will enjoy shopping at the small interesting shops. This attraction is opened for 24hours and is free. Have a Mediterranean meal amongst the orange trees.
The Famous Golden Mile
The walk is about 7.6km (4.8 miles) and should take less than 2 hours at a brisk pace, but with sightseeing it could take a lot more. Fortunately, you will pass our apartment about half way so you could drop in for a rest if you happen to be renting it that week. You simply follow the 6km Paseo Maritimo all the way to Puerto Banus. The first 2 kilometers is shaded with palm trees and laid with beautiful marble.

Puerto Deportivo Maritimo de Marbella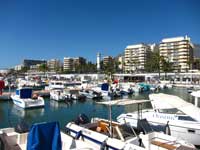 Puerto Deportivo Maritimo de Marbella is located at in the heart of Marbella. It was founded in 1957 for anchoring small boats. You can reach anywhere in the city easily from the marina. The marina is surrounded by tourist attractions. It underwent extensive renovations in 2002 and again recently. There are many bars and restaurants. This makes it a good port of call along the Spanish coast. The facility offers berths, boatyard and a storage facilities.
Nightlife
Marbella is famous world-wide for its buzzing night life and classy watering holes. This exclusive holiday resort has no shortage of super cool bars, fine restaurants and legendary night clubs that attract visitors and celebrities from all over.
Whether or not you fancy bullfighting, Marbellas Bullring plaza also known as Plaza de Toroz is a work of art on its own. This impressive structure seats about 10,000 people and host bullfights every weekend. For those interested in concerts and festivals, the building hosts these as well. The Plaza is opened on weekdays from 10-2pm.
Marbella Video
Watch the Marbella Town video from Solchannel on Youtube.
Fabulous beaches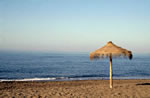 Most of the beaches are well served with all the usual "essentials" like foot baths, lifeguards, children's play areas, sun loungers, sunshades and a variety of watersports. Watersports include jet skis, pedaloes, wind surfers and banana rides.
You can hire a jet ski or water bike from many of the bars and safety standards are high - wearing a life jacket is obligatory and there are safe access lanes to avoid accidents with swimmers.
Fabulous Micro-Climate
Positioned between the beach and the Sierra Blanca mountain range behind it, Marbella enjoys an unusually pleasant micro-climate.
Marbella climate information
Boat Cruises
The best panoramic view of Marbella is via a boat cruise between Marbella and Puerto Banus. Trips regularly depart from Marbella and Puerto Banus, giving the opportunity to see both ports at a distance. In addition to using boat cruises as a way to see Puerto Banus, you might also consider them an enjoyable means of transportation between Central Marbella and Puerto Banus.
Marbella Tourist Train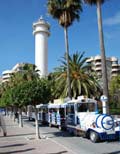 There is a local tourist shuttle train which travels around main roads of Marbella. It is a "train" of about two to four carriages pulled by a road vehicle designed to resemble a steam train. It is an excellent service that shuttles passenger around town of Marbella. This is an inexpensive means of getting around the area of Marbella running on a half-hourly basis. Great Family Fun for all and you can travel around town with ease.
Museums and Art
Marbella has much to offer with its museums and art galleries. The main museums in Marbella range from Marbella's popular Contemporary Engraving Museum (Museo del Grabado Espanol Contemporáneo) to the truly unique Bonsai Museum (Museo del Bonsai) in the Parque Arroyo de la Represa.
For art lovers visiting Marbella, the arts scene here is becoming well developed, with Marbella's top art galleries and art museums including the popular Municipal Exposition Gallery (Galeria Municipal de Exposiciones) and the Casa Grande gallery, both of which attract a range of changing exhibitions by artists from all over the world.
Museum Ralli houses the most important collection of latinoamerican art in Europe. Argentinian paintings and European sculptures from Dalí en Maillol. European paintings also from Max Ernst, Miró, Dalí,… in a magnificent building.
Images of Marbella
More images of Marbella on our Pinterest Marbella board.