Marbella Christmas Events
Christmas Decorations
Christmas in Marbella is a very exciting time as the city lights up with Christmas decorations. Although you are unlikely to see snow and frost, you will be enchanted as you walk through the decorated Plaza de los Naranjos and other squares around Old Town Marbella. The cobbled streets of the town, and especially the Old Town, are transformed into a magical wonderland. San Pedro is also beautiful with its nativity scenes and Christmas decorations. Each year there are more illuminated streets than previous years with more than 1 million light bulbs. There is plenty to entertain everyone in Marbella at Christmas. From the Christmas concerts, to magic shows, animated adventures for the younger children. Along with ice rinks, puppet shows and entertainment in the Main Plaza de la Iglesia in the Old Town.
Town Hall Programme
The Marbella town hall creates an extensive Christmas program each year suitable for all ages which last from December 1st to January 5th. The start of the Christmas festivities in Marbella officially starts with the opening of the nativity scene in the church square (Plaza de la Alameda). The city's streets are illuminated and Santa's Grotto opens in Parque de la Alameda. The illuminations on Calle Enrique del Castillo are particularly enchanting.
Article continues below Ads ↓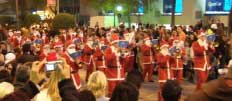 Marbella Christmas events for the family include concerts, contests and even a visit from the three wise men (Los Reyes) in a Three Kings parade. The parade is a lovely event when the whole town comes out and lines the streets. There will be marching bands of course and lots of floats with kids' favourite characters, people dressed up and throwing sweets down to everyone below.
Christmas Activities in Marbella
Christmas activities in Marbella normally include:
Santa's Grotto and the Municipal Nativity Scene in Parque de la Alameda
Children's Christmas Card Contest at the Departamento Centro Historico (Historical Center Department) on Salinas Street. Three different categories are judged according to age.
Free chocolate and rosquillas (Spanish cookies) and free rides for all the children
Ice skating rink
Marbella Christmas market - First line of the Puerto Deportivo de Marbella (Marbella sports port).
Childrens park in the Paseo de La Alameda and Plaza de la Iglesia, with Santa Claus Post office.
Solidarity Bazaar in the Palacio de Ferias y Congresos

Santa Claus tours through the main streets of the historic centre distributing sweets
Christmas Concert in the Squares of Victoria, Naranjos, Iglesia and África.
Storyteller, sweets and workshops in Plaza de la Iglesia
Christmas Concert in Teatro Ciudad de Marbella. Free entrance.
Traditional chocolate and churros in Calle Juanar of Barriada la Patera.
Christmas Concert in Teatro Ciudad de Marbella. Free entrance.
Great children's Christmas party in Plaza de la Iglesia. Children´s choir.
Ballet of Madrid performs in Teatro Ciudad de Marbella. Ticket-sale in El Corte Inglés and the Teatre box-office.
Great childrens´ party in Plaza de la Iglesia
Enjoy the competition of villancicos (Spanish Christmas carols) by various local schools on Plaza de la Iglesia in the Old Town district.
Parade of the three wise men starting in Estadio Municipal de Fútbol then through Calle Magallanes, Travesía Huerta de Los Cristales, Avenida Severo Ochoa, Avenida Ramón y Cajal, Avenida Ricardo Soriano and ending in Avenida Ricardo Soriano.
Malaga Christmas Lights
If this is not enough for you, why not make a day trip to Malaga to see the Christmas lights. They put up 4 million LED lights and it turns the city into a magical place.
Christmas Winter Sun
Enjoy the mildest winter in Europe with your family without missing out on those Christmas treats. Rent our apartment for Christmas. Book early to avoid disappointment.