What to Wear in Marbella - Fashion Essentials
Marbella Fashion Essentials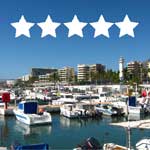 Wow! You've booked your holiday in Marbella, now do you know what to wear in Marbella? Marbella recently embraced a new tag line - Marbella Five Star Destination. If you can't afford Chanel, Gucci or Prada, then look for more affordable exclusive brands. Get those Marbella exclusive outfits for a great time.
What to Wear
Marbella has two rather different areas. There is the old town and beaches, then there is the fashionable port of Puerto Banus.
Marbella Old Town and Marbella Beaches
These are relaxed areas with an easy dress code. Everything goes in this area and shorts will do fine. As Marbella weather is mostly sunny, you should wear lightweight cotton clothes and in summer, you can wear shorts, women can wear skirts and tops. It winter take a light cardigan, jumper or wrap for those few chilly nights
Puerto Banus
For Puerto Banus, the fashionable port of Marbella, you'll probably need a few different outfits and they better be smart. Fashionable Puerto Banus with its yatchts, Ferraris and exquisite restaurants calls for sophisticated day wear. Get your swimwear and weggies ready for the champagne spray pool parties. Perhaps some figure hugging number for the pre-night club cocktails. For the nightclubs, you need an outfit fit for a celebrity together with killer high heels, lashes and lipstick. Basically, dress to impress, it's all about designer hand bags and statement heels.
What are TOWIE wearing?
TOWIE Men
Men might not want to go as far as Bobby Norris to impress but you still need to dress attractively. Don't even think about wearing shorts for an evening meal in Puerto Banus. In many upscale places, men have to wear long trousers (but not jeans) and a shirt. Try and go for a short-sleeved shirt or polo shirt rather than T-shirts. If it's a Ralph Lauren polo-shirt even better.
TOWIE Women
Women also might want to take their cues from TOWIE. River Island seemed to be one of the favorite shops to the TOWIE girls. Kate Wright paired busty look top with billowing Palazzo pants her trim middle was highlighted with a thick waist band. Chloe Lewis went for the classic look in a floral playsuit and red high heels. Read more about these styles at the Daily Mail.
Professional Fashion Advice
Bonnie Rakhit

For more up-market fashion, see the pages of Bonnie Rakhit - The Style Traveller. In July 2015, she visited Marbella and picked several different outfits for '24 hours in Marbella'. Bonnie is the former Fashion Editor at British Elle Magazine, Sunday Times Style and Grazia Magazine. Bonnie Rakhit is a freelance fashion and travel editor, writer, presenter and consultant living in London. TheStyleTraveller.com 'a fashion editors guide to the world's most stylish places,' has been voted one of the Top Five Luxury Travel Blogs in the UK. See her Trip to Marbella page.
Suzanne Jackson

Another good website to go for ideas is SoSueMe.ie. Suzanne Jackson went for a Marbella Holiday and in her 'What I Wore' diaries she shows 7 outfits in detail that she wore in Marbella. After every holiday she does a round up of all of the outfits she wore, letting you know where she purchased them and how she put her outfit choices together. See more on her Marbella Holiday- What I Wore page.
Anne-Marie

Anne-Marie runs a blog called Catwalk SchoolGate. They describe themselves as an 'online Schoolgate Blog' – where people share information, tips and news about their lives. They've been around for over a year now, and have experienced fantastic growth. She recently visited Marbella and describes what was in her suitcase for daytime Marbella. Read the Anne-Marie Marbella Blog
Fashion Ideas
Womens Fashion | Beachwear | Shoes | Sunglasses | Headwear | Mens Fashion
Women's Fashion
Escada

ESCADA stands for modern elegance, cool glamour, and sensual feminity. It is for women with a distinct sense of luxurious quality and excellent fit. The collection offers a lifestyle concept for dressing, filled with everything from must-have everyday items for business and leisure to red carpet/gala occasions. ESCADA Sport stands for casual chic and relaxed style. The brand line creates modern and feminine casualwear for dynamic women with a youthful spirit who love an easy, uncomplicated yet dressed style.
Pretty Little Thing
Offering fast fashion at affordable prices, Pretty Little Thing is rapidly becoming the 'go to' destination for every fashion savvy girl. From trend-led statement apparel to every day essentials, find fierce footwear, cool accessories and your fashion basics. Pretty Little Thing has a celebrity following including Little Mix. It has won the Fabulous High Street Fashion Award 'Best Online Boutique'. With new items being added daily and all available on Next Day Delivery, Pretty Little Thing bring the hottest looks direct to your door.
Dead Legacy
Dead Legacy is a premium clothing brand for those who like to stand out from the crowd and love fashion. Dead Legacy have a strong portfolio of celebrity clientele reflecting the superior fit, outstanding quality and distinctiveness of their garments.
Fashion World
Fashion World, as advertised on TV, specialises in offering flattering clothing and lingerie to help customers keep up with the latest trends that best suit them. Customers can use the online shape guide and style advice sections to find the perfect fitting outfit at a great price. Plus catwalk collections provide customers to shop by outfit and stay in fashion with ease. We have womenswear for all occasions, including maternity wear.
Beachwear
Looking good on the beach or by the pool means being fashionable.
Established in 2004, Simply Beach stocks over 40 top brand swimwear, beachwear and underwear labels for men and women including Seafolly, Freya, Sunseeker and ViX, to high end swimwear labels such as Jets by Jessika Allen and Melissa Odabash.
Shoes
Shoesinternational offer both an excellent choice in Mens and Womens footwear and first class customer service. Brands include Ecco, Loake, Dr Martens, Grenson, Mephisto, Scholl and many more, all available online at very competitive prices. Delivery is Free Of Charge in the UK.
Choose from around 860 products; mostly ladies footwear with their top categories being sandals, shoes and boots. The Moda in Pelle collection is updated regularly with both formal and casual styles. They also sell handbags (from formal clutch bags to casual totes), and other accessories such as scarves and shoe care products.

Terry de Havilland dates back to the 60s and rose to fame for their iconic 70s block heel still worn to this day by celebrities such as Kate Moss, Cara Delevingne, Lady GaGa and Rita Ora.
Sunglasses
Headwear
In Marbella, style is everything. During July and August you will definitely need the protection of a hat if your going to be outdoors for any length of time. New Era Cap is a brand that can be seen on the runways of Paris during Fashion Week and in hundreds of music videos on MTV. New Era is seen as an iconic brand that celebrities, entertainers, musicians and athletes are seen wearing today.
Mens Fashion
Jacamo
No ordinary menswear collection at Jacamo. Jacamo customers keep their wardrobe up to date with menswear for all occasions from cool casual wear to great fitting, tailored suits. The site is dedicated to providing big name brands in a big range of sizes; hassle free. Sizes M to 5XL - all sizes the same price. Big selection of online exclusives. Next day delivery as standard. 25 major brands, many in sizes exclusive to Jacamo.
Premier Man
Premier Man offers larger sized, smart clothing for men who want to look their best. Customers can shop for their whole wardrobe from casual wear to tailored suits in sizes up to 5XL.
Happy Holidays