Trip from Marbella to Benahavis
Fabulous Location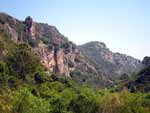 Benahavis is in a fabulous location. It is surrounded by peaks of the foothills of the Sierra Blanca and the Serrania de Ronda. It is only a few kilometers from Marbella and Estepona. Benahavis is a tourist treasure in terms of artistic merit and especially for foodies. Benahavis offers a lot of opportunities to practice your favourite sport. If you like walking the spectacular mountainside offers stunning views and you can see as far as 100 miles from the Spanish coast and much of North Africa.
Article continues below Ads ↓
Restaurants in Benahavis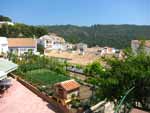 You will so enjoy the spanish atmosphere in the restaurants in Benahavis. It is often called the dining room of the Costa del Sol because the village centre is literally full of restaurants and cafes. Most serve typically Spanish cuisine, although you will also find Italian food, Indian curries, and more elaborate Spanish and French cuisine. All restaurants will offer you a very good value for money, and really large portions. Many give stunning views over the town and countryside.
The number of restaurants in Benahavis seems endless but here are jus a few to try:- Amigos, El Molino, Eugenio Las Cañas, Donde Kike, Flor de Lis, La Sarten, La Torre Los Abanicos, La Escalera de Manolo Espada, or Los Faroles Rufino.
Bars in Benahavis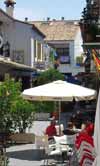 Bars in the village Bars in Benahavis are amongst the coziest on the Costa del Sol. You have the choice between traditional tapa bars, British orientated bars or late night venues. Breakfast is served in some whilst others provide good value-for-money lunches, pizzas and roast chicken.
Try out Bodega Villa Josefa, Bar El Ambiente, Canela Bar, & Pizzeria, Bodeguita El Chico, El Ambiente Kiosko, La Taberna de Eugenio, La Rondeña, La tasquita de Paca or Lili's Panambi.
All about Tapas
Things to Do in Benahavis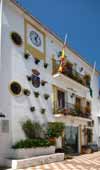 Walking around the town is a delightful experience. Whitewashed houses and immaculately kept civic buildings are there on show. If you like walking in the countryside, just take whichever track you find for some magnificent views. The most stunning are those at Montemayor Castle where you can see the whole coastline from Marbella to Gibraltar. If you like free climbing, the "Las Angosturas" gorge at the entrance of the village has more than 60 climbing routes. Close to the river and next to the Gran Hotel Benahavis you'll find the multisports complex of Benahavis, with a swimming pool, tennis and paddle tennis courts, the municipal gym and an exquisite football pitch. There is a golf driving range is just next to it. The road up to Benahavis is well used stretch for fans of cycling, as is the Ronda road for the real enthusiasts, and there is plenty of mountainbiking to do all around the area. It is also the hotspot for golf lovers, boasting 12 of the Costa del Sol's 70 golf courses, and that will go up to 15 in the next couple of years.
Nature and Wildlife
Flora
Large numbers of gall oaks and Spanish firs are to be found on the mountain peaks, where precipitation and fog are common. Holm oak and cork oak thrive at lower altitudes. If you look closely, you will also see collections of madronnos, yews, chestnuts, maples and ashes.
Fauna
Only two wild species of large hoofed mammal are native to this area. One of Andalusia?s largest communities of mountain goat can be seen in this area of the Sierra de las Nieves. You may be lucky to see deer wandering through the area. Other species such as the stag and mountain ox have been brought into the park area providing them with an excellent habitat. Also to be found here are certain animal species protected by law, such as the wild cat, golden eagle and otter. And without leaving the village, you can easily see some vultures flying overhead.
How to get there
Bus Services
Buses leave Marbella Bus Station for Benahavis at 06.30 and 18.20. Journey time is 45 mins. The bus stop is at the entrance of the village on the left. There is a bus at 07.15 and one at 19.30 leaving Benahavis for Marbella.
Taxis
A taxi from Marbella to Benahavis should cost you about 20 euros during the day, and about 28 euros at night. It maybe less from our apartment which is closer to Benahavis than central Marbella.
Car
Take the coastal route from Marbella along the Golden Mile through San Pedro. Benahavis is signposted on the right. From the AP-7 expressway or the old N-340, get onto the A-6205 just past San Pedro de Alcántara and it will lead straight to the village.
Have a nice Day
Another great trip from our apartment in Marbella