Private air-tours and scenic helicopter flights
World Aviation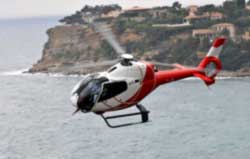 With their own fleet of various models of helicopters, including Robinson R44 Raven II & Eurocopter AS350 with 5 passenger seats, they are well positioned to offer flexible solutions for client transport requirements. They frequently cater to groups of up to 40 guests by operating multiple helicopters at the same time. They have offices in Malaga Intl. Airport, Madrid – Cuatro Vientos and their own heliport in Marbella Golden Mile area.
Article continues below Ads ↓
The Service
Air-tours and scenic flights – allows clients to enjoy spectacular views of harbors, golf-courses, beaches and properties. Prices starting at 195 € / pp.
Airport Transfers – to and from Malaga Airport to Marbella, Estepona Hotels, Sotogrande, private estates, golf courses etc. Prices start at 1.500 € for up to 3 passenger transfer.
A choice of activities combining a helicopter flight with a 5-star lunch, a visit to the Alhambra, tapas-tour in Sevilla, Visit to Restaurants in Barbate, Ronda, Ascari etc.
Aerial survey, filming & photography – flight options available for 1-5 passengers. Gyrostabilized camera-mounts for full cinematographic quality.
Property viewing flights – enables your clients to gain a different perspective on their area of interest as well as view an extensive range of properties and their surroundings from the comfort of the cabin of your private helicopter.
Charter service & stand-by option – Your helicopter and flight-crew at your disposal for as long as needed.
Professional Drone Operator - Aerial service with various models of Drones available, including the INSPIRE 1 incorporating the latest digital technology offering resolution up to 4K.
European Aviation Safety Agency (EASA)-certified Helicopter Flight School: World Aviation Helicopter Flight Academy provides a comprehensive range of helicopter and drone pilot training through their facilities in Madrid and the Costa del Sol.
All flights are tailored to suit customer needs and preferences therefore ensuring a unique and memorable experience for your guests. They will be able to organize everything for you to make the day as relaxing and enjoyable as possible. If it's for a special surprise, let them know to allow you complete discretion.
Further details
Websites at www.worldaviation.es, www.marbellacopters.com and www.helifan.eu.