Long Stay Winter Holidays in Marbella
Why come to Marbella in Winter?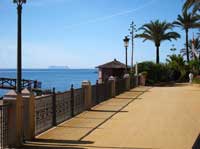 Winter life in Marbella on the Spanish Mediterranean coast is all about sunshine, warm weather and quiet surroundings. Add to this excellent service, a diverse cultural lifestyle, entertainment and relaxation and you will not be dissapointed. And in winter, all this is provided at a reasonable price. You can't go wrong with long stay holidays in Marbella.
Pleasant Climate
Due to the pleasant climate, many retired Northern Europeans are spending several months in Southern Spain and the Costa del Sol. With low crowds and great weather, Marbella is perfect for a spot of winter sun. When the summer tourists leave the beaches and return home, thousands of people from other parts of Europe come to Spain to enjoy the mild winters. Just like birds migrating south the come to escape freezing temperatures, rain, snow and traffic jams. When it is cold, damp and miserable in the rest of Europe, it's ideal to come to Marbella as it's only a short flight and the weather is much warmer and the lifestyle relaxed.
Be Healthier
Holiday makes us healthier because you can spend more time outside doing exercise. Many people hate to be in their homes due the bad weather in winter; this situation can bring anxiety or depression to many of us. Compare a long cold winter being at home, with a long term holiday in Spain with a mild climate and the possibility to enjoy a promenade walk next to the beach and a drink at the poolside bar. Have an energizing game of tennis in the courts on the complex. Hire cycles and cycle along the beautiful Paseo Maritimo. Remember, back at home you may be just be sitting inside watching television, not getting any exercise.
Save money
Renting a long-stay holiday in the sun this winter won't just give you a golden glow it could save you a fortune. Keeping warm will be harder and heating your home will be more expensive than ever this winter, so you can be actually saving cash by being on holiday in the winter!
Make the Change
Older people of retirement age have recognized that a long-term stay no longer has to be a luxury and is an affordable vacation for those who are looking for a change in their daily city life. More and more people turn year after year their back to their cities in winter for more than two months.
People who are in the position to take a long-stay holiday rental are doing so because they simply don't want to take the risk of another harsh winter at home. A few years ago, most of the people booking long holidays through winter were retired. Now, with more flexible working practices and a rising number of self-employed, younger people opt to spend chunks of the winter renting abroad.
This is particularly true in the building industry, where cold weather often stops work and a winter holiday rental makes good financial sense. And in the travel industry, everyone from holiday reps to Blackpool landladies finds it easier to take a break through the winter low season.
Looking for your Dream Home
If you're thinking of moving to this part of Spain, you will need somewhere to rent while you look for your new apartment or house. In this situation, you'll be looking for a long-term rental. It's important that your accommodation is comfortable, convenient and well-located. Looking around properties for sale in the area requires plenty of time to consider the pros and cons without feeling rushed or pressurised. Take time to get to know the area and market to ensure you make the right decision and your purchase has all the benefits you expect..
Weather
Marbella weather is mild and can be quite warm in winter. In fact, hot enough to be on the beach. This is due to it's position with the Mediterranean Sea and beach to the south and the Sierra Blanca mountain range behind it to the north. A truly fabulous sun-trap. It may be windy in the Straits of Gibraltar, there may be rough seas and waves in Fuengirola just up the coast, it could be blowing spray onto the Paseo Maritimo of Estepona just down the coast, but, the weather will be calm and pleasant in Marbella. A mild temperature throughout the year, shorts and hats for summer and generally a light jersey will do fine for many days in winter. Darkness, cold and endless rain is the description in most of Europe for autumn and winter- not so in Marbella. Average day temperatures are above 55° in Winter. See our page on Marbella weather
Amenities
Self catering gives you the luxury and the flexibility to please yourself without the binds of a hotel room. For instance, our apartment is close to everything – supermarkets, restaurants and of course the beach. It has everything you need - washing machine, sky tv, DVD, air-con, heating etc. Use the open sheltered terrace for meals on sunny and rainy days. There is secure parking for your car. There is also a full-time manager on-site to sort out any problems quickly.
There are two large supermarkets to get your provisions for your holiday within easy walking distance.
There are many good quality restaurants just accross the road and within a 5 minute walk.
Local public transport just outside complex direct to Marbella Central, Puerto Banus, San Pedro, Estepona and Marbella Bus Station. See Marbella Local bus maps and timetables and Marbella long distance bus timetables.
Marbella Area
Even with the rising cost of the Euro, the abundance of cheap flights and affordable accommodation mean that the Med is still for the budget traveler. Why travel further for a spot of winter sun when you could be basking on the beach in a couple of hours?
There are some authentically Spanish and stylish places on the Costa del Sol. This is the home of flamenco and bullfights, and inland, you'll find rolling sierras and snow-topped mountains. The capital, Granada is a picturesque jumble of Moorish palaces, and the buzzing city of Seville is within easy reach.
The chic celeb-magnets Marbella and Puerto Banus are the real stars of the Costa. Just like Cannes and St Tropez, Marbella and Puerto Banus boast elegant luxury and are home to mega-yachts, luxury shopping and palatial villas. But Marbella is not just for the jet set, Marbella has a quaint old Spanish Quarter, with unique boutiques and hidden tapas bars. The Plaza de los Naranjos in the centre of the Old Town is perfect place to sit back and watch the local, and not so local ,rich and famous shop and eat. The pretty Puerto Banus marina is home to some great fish restaurants and lively bars. The main beaches, Playa de Venus and Playa de la Fontanilla has well-maintained sands and, if you're bored of sunbathing, an array of water-sports.
Health Care in Spain
The Spanish health service is excellent and if you are unwell you should go to the nearest Medical Centre (Ambulatorio). In addition to emergency medical services provided by the state, there are private doctors and dentists in most towns, many of whom will speak English. You must obtain and carry at all times the European medical card known as the EHIC. You may wish, if you are British, to visit the NHS website to find out what you may be charged for and how to claim. It is essential that you take out a travel insurance policy which covers you for the duration of your stay and for the specific activities that you may undertake. You should check which medical problems will be covered under the terms of your travel insurance policy. Our local chemist is in the next block. They speak english and are very helpful.
Accessing Your Money and Paying For Goods in Spain
There is the option to open a Spanish bank account and to transfer money electronically from your home country before you leave. In addition to bringing cash and travellers' cheques, visitors will find that ATMs are in widespread use. Remember that when using your credit card in an ATM you will be charged commission. Money can be changed in banks and in high street exchange offices (Cambio). British visitors are advised to regularly check which offers the best exchange rate between the pound and the euro in order to get the best value when exchanging currency. Credit cards are generally accepted in garages, restaurants and larger supermarkets but some places will require proof of identity when using these cards. However, be aware that many small shops and businesses will only take cash and will not accept cheques, credit or debit cards at all.