Marbella Restaurants
Spoilt for choice
If you are looking to eat in Marbella, you could be wandering around all night as there are hundreds to choose from. Here are a few to whet your appetite.
Michelin Starred
There are 3 Michelin Starred Restaurants. They are El Lago Marbella, Danni Garcia and Skina.
El Lago Marbella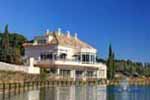 The restaurant has a beautiful backdrop of the Elviria Hills. a picturesque lake and the Greenlife Golf course. It was awarded a prestigious Michelin star in 2005 due to years of dedication to Andalucian Cuisine.
El Lago Website
Danni Garcia at Puente Romano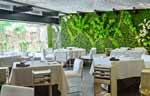 Dani Garcia's cuisine is based on contrasts, but at the same time he rescues traditional flavors of Andalusian cooking. The contrasts in his traditional recipes play with textures, contrasting flavors and the opposition of hot and cold. Without a doubt, we find ourselves before a culinary brilliance that knows how to combine tradition with the most disconcerting avant-garde techniques, going against what is established.
Danni Garcia Restaurant Website
Skina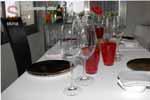 This tiny restaurant is located in the old town and has a contemporary feeling. The parquet floor and an excellent glass wine cellar is complemented by the traditional Malaga dishes. It serves Mediterranean cuisine with avant-garde, modernity and creativity. Skina restaurant was founded in 2005 by Marcos Granda
Skina Restaurant Website
Other Restaurants
Its the little places that the Spanish people go to that can feel busy, fresh and normally present good value. The Spanish really enjoy tapas and sharing. Share a couple of plates between you and don't be worried about everyone having their own dish, especially with young kids. Spanish are used to people sharing dishes. Its the way it is!
Spanish wines are great wines and extremely good value. The house wines are usually a really good choice. You don't have to go for the more expensive on the list to get a most enjoyable wine.
Waiters are now used to their 10% or more that the British have made them accustomed to. It's worth it. Spanish waiters usually go about with a smile on their face and are very obliging - something we are not used to in Britain.
The Old Town
In the Old Town of Marbella (Casco Antiguo) there are some great tapas restaurants, and the best ones are up the cobbled streets hidden behind large wooden doors. There are also some elegant and stylish restaurants situated near the church and in Orange Square in the centre.
You could try:-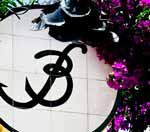 Buenaventura
Casco Antiguo, Plaza de la Iglesia
One of Marbella's top Spanish restaurants constructed in typical Andalusian style located in a quiet corner in Marbella's old town next to the Iglesia de la Encarnaci'n church in the centre of the Old Town. Charming indoor and outdoor patio areas for summer dining.
Buenaventura Restaurant Website
El Cortijo
Calle Remedios
Spanish restaurants located in cobbled street off Orange Square.Offers an extensive and different tapas menu.
Tanguito
Calle Buitrago
Serving Argentinian steaks, Chateaubriand and other excellent grilled meats it is a restaurant for meat eaters. Why no complement your steak with their very creative salads. Located amongst the narrow streets of Marbella, just just off of Orange Square.
Zozoi
Plaza Altamirano
Upmarket international restaurant located in an old converted house just off Plaza Altamirano. Offers the finest Mediterranean Cuisine off a select menu that changes by season and includes some great daily specials. It offers cosy interior dining with al fresco dining on the patios in the warmer months. Great atmosphere and open every day for dinner except Sundays. Great food and excellent service.
Zozoi Restaurant Website
Main Town
La Taberna del Pintxo
Av. Miguel Cano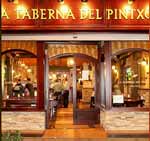 A new restaurant concept, based on the preparation of snacks and hot and cold tapas. The pintxos may be personally selected by the customer at the local bar, while hot are presented in a dynamic and friendly manner by waiters to different tables and customers. The format and pintxos prices vary for different models stick and submitting either cold or hot. The cuisine of La Taberna del Pintxo is a fusion of the main features of the cuisines of North and South of Spain, offering top quality raw material. The menu also includes a wide selection of snacks and tapas, stews, menu of the day, homemade desserts and an extensive selection of the best wines.
Pintxo Restaurant Website
Main Promenade
The main promenade runs between Marbella and Puerto Banus. Most of the restaurants have sea views. There are also plenty of chiringuitos directly on the beach which serve excellent fish including grilled sardines during the season. Our favourite is La Red.
You could try:-
Da Bruno Sul Mare
Edificio Skol
Choose from several Pasta da Bruno Italian restaurants in Marbella. They are very popular with tourists in summer but are a haven for local residents all year round. Overlooking the Mediterranean, Da Bruno Sul Mare has an extensive selection of fresh pasta, fish, pizza, steaks or vegetarian options. The best Italian cuisine together with their good and reasonably priced house wines.
Da Bruno Restaurant Website
Garum
Paseo Mar'timo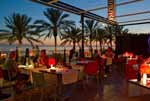 Garum overlooks the sea in Marbella with a large outside terrace and modern interior with a conservatory like appearance. Offering a menu del dia which is very reasonably priced or a table d'hote menu. Great selection of cheesecakes Childrens menus available including rosada fish with chips and chicken or pasta bolognaise.
Garum Restaurant Website
El Castillo
Avenida Duque de Ahumada
Traditional Spanish restaurant located near the stepped entrance to the Paseo del Maritimo. It has a suit of armour at the entrance. Serves a good range of paellas at excellent prices as well as a three course menu del dia. Their fried fish Malaga is massive and very fresh. Very friendly staff and good service.