Free things to do in Marbella (or nearly free)
Getting the best value out of Marbella
Marbella may be the home of the rich and famous but it also offers great free (or low cost) things to do for those on a budget. With 320 days of sun per year, the great outdoors is where you will find the best free things to do. However, if it does rain (very unlikely in summer) there are also free museums, art galleries and flamenco shows to visit.
Free things can also be fun things. You don't need pots of money to have an amazing time in Marbella. Follow this guide below and save yourself enough money for another fabulous holiday.
Marbella's Blue Flag Beaches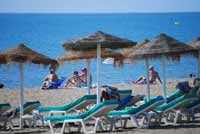 Marbella is a beach lover's paradise with 27kms of coastline and 23 beaches. Marbella has been awarded 12 Blue Flag beaches. Examples of such beaches are: Artola, Rio Real, Las Chapas, los Monteros in East Marbella; La Fontanilla, Venus and la marina de la Bajadilla in the center of Marbella; Rio Verde and Casablanca in West Marbella; La marina Puerto Jose Banus; Guadalmina in San Pedro Alcantara.
So, do what the locals do. Go to the nearest discount store, get a folding chair, an umbrella and some sun screen and spend the whole day at the beach. If you haven't stocked up your coolbox with beer, sandwiches and sangria, the little chiringuitos will sell you good value appetising Spanish food. The beaches along the Paseo Maritimo feature large appealing elephant showers to keep the kids amused too.
Outdoor Gym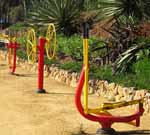 Whilst down on the beach, you will see one of Marbella's free exercise zones. Keep fit and have fun whilst enjoying beautiful views of the Mediterranean and the coastline along to Gibraltar. These exercise zones are dotted along the Paseo Maritimo between Marbella and Puerto Banus. No need to pay exorbitant prices to keep fit in Marbella.
Municipal Parks
Parque Arroyo de la Represa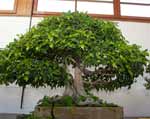 This park is two kilometers long and half a kilometer wide. The small river bed has been dammed to produce a marvelous park in which there are numerous artificial lakes, sports areas, children's park and the famous Bonsai Museum. The lakes are full of turtles which will keep the kids happy for hours. The Bonsai Museum charges a nominal entrance fee and contains an exquisite exhibition of bonsai trees, thought to be the best collection of Bonsai trees in Europe, and the best Olive Tree collection in the world. It also has in its collection the "Pinsapo Pine", which is close to extinction, and one Acebuche Olve tree that is more than 300 years old. Don't miss it!
Parque de la Constitución
In the centre of Marbella is one of the most beautiful and peaceful parts of Marbella. The park is an ideal resting place having thick vegetation, carefully landscaped gardens, a children's park, a small astronomic observatory and with benches throughout. There is an auditorium with room for 600 people. The shows offered vary from opera to theatre and it hosts prestigious cultural events.
Paloma Park, Benalmadena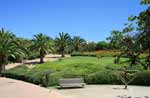 Although this park is in Benalmadena, you can take the bus to Torremolinos from the bus station and get off at Benalmadena. It is one of the largest on the Coast with more than 200,000 square metres of green areas. You will find children's adventure playgrounds, a lake with ducks and swans, an animal park, and trails. You could take a picnic, but there are two very affordable bar/restaurants that make great snacks and baguettes and serve a nice ice cold beer. See more information on Paloma Park
El Parque Pinar de Nagueles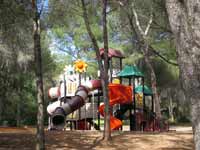 Just a few minutes from the Golden Mile in Marbella, in the Sierra Blanca Urbanisation, you will find a great place to spend the day with your family. There are barbeques, tables and lots of shade making it perfect for a picnic. Easy parking, bars, a playground and other utilities make this place enjoyable and special.
Lago de Tortugas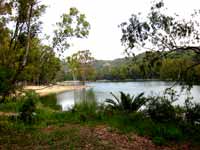 Just 10 minutes from Puerto Banus, above Aloha in Nueva Andalucia, in the foothills of La Conche Mountain, is a lake that is great for walking the dog, feeding the ducks with the kids or just sunning yourself. Lago de Tortugas (Turtle Lake) is a well known natural beauty spot. There are picnic tables with some covered which is useful in July or August. There is a chidrens adventure playground and of course there are the turtles. Walk along the top of the dam for the best view of the turtles.
Jardín el Angel (Angel Gardens)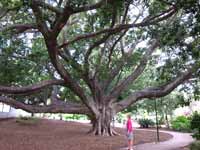 The gardens are found in the El Angle Colony (in front of the Aloha College) on the road from Marbella towards Istan. This is one of the most complete and oldest botanic gardens on the Costa del Sol. It is very well lit at night which makes an evening visit delightful. There are 15000 m2 of gardens with three distinct areas. Jardin Romantico (Romantic Garden), which preserves the 'romantic'style of the original garden, through clay paving, parterres and straight & rounded hedges. Jardin del Crucero (The Cruise Garden) was added to the garden at the end of the 1990s decade. It has a profusion of orange tree and cypresses surrounded by hedges, with symmetrical shaped parterres that meet in the center of a plaza. Jardin Tropical (Tropical Garden) has a landscape style with winding paths of coloured concrete. There are three artificial lakes with waterfalls surrounded by a collection of 80 different species of Palms. All are blended together nicely and linked by a network of little paths along which you can have a peaceful stroll.
Los Tres Jardines - San Pedro de Alcantara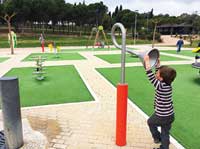 Opened in October 2012 and it is located in by the River Guadaliza to the east of the town. Designed to have 'three gardens' - the "jardín árabe" (Arab garden), the "jardín mediterráneo" (Mediterranean garden) and the "jardín subtropical" (subtropical garden). Unfortunately the maintenance of the garden has something to be desired but there are still lots of wonderful plants throughout the park and there is an abundance of trees and vegetation. The following areas can be found within the park - two children's playgrounds, lagoon, dog park, pathways for walks. Tres Jardines is tucked away in the industrial estate in San Pedro, just off the BP roundabout on the Ronda Road. It is easy to find and parking is provided inside. For more information go to www.andalucia.com
Article continues below Ads ↓
Sightseeing
Old Town Marbella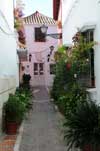 The old town of Marbella is absolutely charming. The streets are narrow and cobbled, with chic boutiques and local cafés side by side. You will find real hand made clothing and jewellery in the boutiques around the Old Town.
The ancient walled city retains nearly the same layout as in the 16th century. It is the perfect place to walk back in time and re-live history by visiting the historic fountain and a chapel built in the 1400s.
See our description of the Old Town in Marbella
Walk the Golden Mile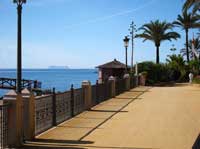 The walk is about 7.6km (4.8 miles) and should take less than 2 hours at a brisk pace, but with sightseeing it could take a lot more. Fortunately, you will pass our apartment about half way so you could drop in for a rest if you happen to be renting it that week.
See our description of the Golden Mile Walk
View Public Art and Landmarks

No need to go to museums to see great art in Marbella. The streets are full of it. It even has a plaza dedicated to the works of Salvador Dali. There are some great landmarks too. Here are some notable examples including Marbella Arch, Seila del Mar, Orange Square, Avenida del Mar, Don Jaime, Marbella Lighthouse, Venus de Marbella, El Pirulin, Bridge over Rio Verde, La Sirena, La Victoria and the Salvador Dali Rhinoceros.
See our description of Public Art and Landmarks
Natural World
Refugio de Juanar
Just past Ojen in the Serran'a de Ronda, is the Refugio de Juanar. It started out as a private hunting lodge of the wealthy Larios family, and a favoured retreat of King Alfonso XIII, but it is now a popular hotel with tourists and hunters. The Serran'a is home to ibex, wildcats and eagles. It is a favourite with hikers and ramblers. From here you can walk to the summit of La Conche, the iconic mountain overlooking Marbella or simply walk downhill back to Marbella. The panoramic views of Marbella and the coast 1000 metres below are superb. Take the bus towards Monda and get off just past Ojen at Refugio de Juanar or take public transport to Ojen and walk up to it. For more information go to Marbella Trails
Donkey Sanctuary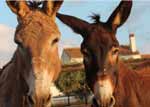 Free to get in but you will need a car to get there. It is just north of Malaga. El Refugio del Burrito is a registered Spanish Non-Profit Association working to improve conditions for donkeys and mules in Spain. El Refugio del Burrito has helped more than 500 donkeys and mules in Spain and Europe and currently monitors over 200 donkeys and mules. They also investigate cases of abuse or neglect, or any public complaint that concerns donkeys and mules.
Donkey Sanctuary Website
Playgrounds
Pirate Park
There are lots of playgrounds dotted around Marbella but if you want a really good playground then the Pirate Park in Fuengirola will amuse children for hours. There is a large pirate ship where they can imagine themselves being Captain Jack from Pirates of the Caribbean roaming the seas in search of adventure. The park also has a bar and cafe so you can watch your kids while enjoying a tapas or two.
Excursions and trips by Bus

The following places can be easily accessed by public transport from Marbella. Directions on how to get there are shown on the relevant page on this website. Just follow the links.
Cabopino
Only 12 km from Marbella , Cabopino has a relaxed atmosphere, an attractive beach, and a pleasant harbour surrounded by renowned restaurants.
See our Trip to Cabopino page.
Estepona
Estepona has succeeded in maintaining its pueblo charm and character. Numerous street cafes and tapas bars still serve traditional Spanish delicacies on the steep, cobbled, narrow streets.
See our Trip to Estepona page.
Gibraltar
The Rock of Gibraltar dominates the entrance to the Mediterranean between the southern tip of Spain and the continent of Africa. Gibraltar benefits from over 1200 years of Moorish, Spanish and British history. If you are desparate to get back to your British lifestyle:-
See our Trip to Gibraltar page.
Mijas Pueblo
On the Costa del Sol is the beautiful little village of Mijas, it is 428 meters above sea level and commands great views of the coastal area around Fuengirola. When you wander through the narrow cobbled streets of this Andalucian village, you can understand what has attracted foreigners to visit and settle here over the years.
See our Trip to Mijas page.
Free events organised by the Town Hall
The local town hall (ayuntamiento) is always organizing free events for the local community and tourists. You may check out the calendar of events on the Marbella Ayuntamiento tourist website.
Culture and the Arts
Avienda del Mar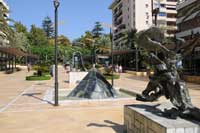 Between the Alameda Park and the Promenade in the city centre is a marble paved plaza studded with the most complete collection of sculptures by Salvador Dali. A really classic and top class collection. The sculptures were bought by the Marbella Town Hall and is one of the most beautiful parts of Marbella. There is ample seating in the Plaza and it is flanked by fountains and water features with tremendous views of the Mediterranean Sea
Ralli Museum
The museum features 10 spacious showrooms where you will discover a large collection of works by contemporary artists from almost all Latin American countries, whose painting reflects a strong influence of the great European painters. Also houses works by Dalí and Maillol as well as paintings from Max Ernst and Miró in a magnificent building. Entrance free.
Ralli Museum Website
Roman Villa
The ruins of this ancient villa are located at the mouth of the Verde River, on the outskirts of Marbella. It dates back to the 1st and 2nd centuries AD, and it has been known about since the mid-18th century, although the excavations didn't began until the 1960s, when the archeologist and historian, Carlos Posac and Fernando Alcala, discovered part of the villa. There is an internal courtyard with lots of columns and a dozen rooms. The mosaics on the floors of the old villa, featuring sea and culinary motifs and faces, are truly magnificent. You can take a free uguided tour on Tuesdays, Thursdays and Fridays at midday.
Ethnographic Museum
Although this museum is in Estepona, the No.79 bus will take you there at very little cost. It has 2000 objects showing the past lives of the people of Estepona including their customs and the economy. Scaled reproductions, tools and farming implements can be seen in the Miniatures Hall. Tools used during harvesting, threshing, and sowing are shown in the Countryside Hall. Miniatures of boats and nets can be seen in the Sea Hall. Entrance free.
Mijas House Museum
Although in Mijas, you can get there relaviely cheaply using local buses. Check out our Trip to Mijas page for info about how to get there. A very well set out house museum with many various rooms showing historic Andalucian village life. There are 12 rooms showing a typical household, the different trades and their tools and the many agricultural and artisan trades. Highlighted are two ancient olive mills, a bakery, a typical patio and a wine cellar. Entrance Free.
Cortijo de Miraflores, Marbella
In the year 1706, Don Tom's Francisco Dominguez y Godoy built a country house and put his Coat of Arms on it. The building was modified and extended over the years, then in the first half of the 19th Century Don Antonio Dominguez Albuquerque shaped the house as we see it today. The building was then known as the Cortijo de Miraflores. Today it is a museum and numerous mill machines and tools related to it's old function as a mile are well preserved. The front garden has exotic species that were planted in 1850. In particular, there is a specimen of Cycas Revoluta, a species originated in the Mesozoic era 150 mullions years ago. Several rooms are used for temporary exhibitions, an image library and a local art gallery. Entrance Free.
Cortijo de Miraflores Website
Las Bóvedas
The remains of these Roman baths, las B'vedas (the domes), are found in Vega del Mar, close to the Paleo-Christian Basilica. They are probably all that remain of the Roman settlement known as Cilniana (or Silniana) destroyed by an earthquake in 365 A.D. You can visit these baths along with a Roman villa. Guided tours are available on Tue, Thu and Sat at midday, though only by prior arrangement. These tours are free, but a car is needed to get here from the meeting point, the tourist office in San Pedro de Alcántara.
Real Spanish Flamenco Show

Don't pass this opportunity of seeing a live Flamenco show for free. It is held in the historic Hotel Fuerte in the hotel bar. It's worth going just to see inside this hotel that has maintained the original features from 1957. There is no charge to sit and watch the show and it has a relaxed atmosphere. The quality of the dancers is amazing and the show is spectacular. Although it starts at 10pm, kids are welcome, and as they are on holiday it would be a great treat. Order a kid-friendly cocktail and hot chocolate for them while you get stuck into your litre (or two) of Sangria.
Local Events and Ferias
San Bernabé
Every year in the month of June, Marbella prepares to celebrate Semana Grande in honor of its patron, St. Barnabe. Residents and visitors gather to enjoy a few days of fun at the Fair. A very carefully designed programme ensures that everyone from the youngest to the oldest can find activities that interest them. Marbella glitters in June with residents wearing their best clothes to honor their patron.
See our San Bernabé page.
Holy Week
Marbella Holy week is one of Southern Spain's most famous religious celebrations. Every year, the different stages of the Cross are commemorated in every Andalusian town and city. In Marbella, a series of decorated processions takes place from Palm Sunday to Easter Sunday.
See our Easter in Marbella page.
Christmas
Christmas in Marbella is a very exciting time as the city lights up with Christmas decorations. Although you are unlikely to see snow and frost, you will be enchanted as you walk through the decorated Plaza de los Naranjos and other squares around Old Town Marbella. San Pedro is also beautiful with its nativity scenes and Christmas decorations.
See our Christmas in Marbella page.
Catch up with friends with free wifi
While away some free time using the free WiFi in many of the bars and restaurants. Just buy a drink or a snack and you will be given a password to access the internet. However there are some hotspot wifi locations where you can access it totally free of charge. See our Free Marbella Wifi page.