Trip from Marbella to Cabopino Beach and Marina
Relaxing Cabopino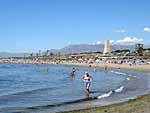 Only 12 km from Marbella , Cabopino has a relaxed atmosphere, an attractive beach, and a pleasant harbour surrounded by renowned restaurants. Cabopino (Pine Cape) has a forest of pine trees going right down to the sand dunes along the beach. Development has been strictly controlled here, so you won't see any tower blocks. Cabopino is well sheltered and protected from the elements, and artificial reefs on either side of the beach keep the waves and wind at bay.
Article continues below Ads ↓
Cabopino Beach
Cabopino is unlike anywhere else on the coast having sand dunes alongside the beach and an old fortified watchtower still stands overlooking the mediterranean sea . While on this spectacular beach, it is possible to see all along the coast to Marbella, Gibraltar and even Africa way in the distance. Cabopino has some high quality beach bars (chiringitos) and Lifeguards are on duty throughout the summer. Cabopino's beach is child-friendly and safe because it slopes gently into the sea. The sand is clean and very well maintained.
Cabopino Restaurants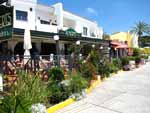 There are plenty of restaurants in Cabopino and some are positioned around the small, but beautifully proportioned, picturesque harbour. They are renowned for their excellent quality. Sample Cabopino's superb specialty seafood at prices that are reasonable taking into acount the quality of the dishes. You will find fine cuisine from all over the globe as well as the traditional Spanish favourites such as paella and pizza. Look out for the Victoria theme restaurant. Vegetarian menus are also available.
Cabopino Port and Marina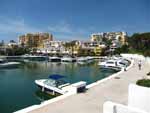 The pretty port, with its small boatyard has attractive architecture. Cabopino's 169 moorings are always occupied by exclusive yachts. Small and tranquil most of the time, but Cabopino gets busy at lunchtime, especially at weekends. The enviable location makes it a perfect place to spend a day. You will find a charming cobbled plaza behind the harbour surrounded by an assortment of exquisite cafés and small restaurants.
Golf
Cabopino boasts its own golf course, Cabopino Golf, which offers a challenge to your short game.
Getting to Cabopino
Catch any bus from outside our apartment (other side of road) into Marbella (5 mins). Get off at 'Marbella Centro'. Wait at that stop for the 220 service to Fuengirola (every 30 mins). The journey to Cabopino takes about 40 minutes and travels along the coastal route. Ask the driver to let you know when to get off. You will see the Artola Hotel on the right just before the stop. From the bus stop, walk up to the roundabout and down the road to the left into the port. If you want to go by car, parking is easy and close to the beach.
Have a nice Day
Another great trip from our apartment in Marbella