Puerto Banus - the most fashionable resort in Southern Spain
Puerto Banus is just 6 kilometres (3.7 mi) southwest of Marbella . Cafes, restaurants and boutiques are clustered around the harbour. The choice of international restaurants is amazing, with most of them situated right on the marina with spectacular views. The incredible nightlife in Puerto Banus offers a huge choice of entertainment. These include discos, casinos, piano clubs and alfresco bars.
Article continues below Ads ↓
Finest stores in the world
Puerto Banus and Marbella has some of the finest stores in the world. There is an abundance of shops selling clothes, furnishings and all you need for luxury living. Designer names such as Armani, Gucci, Chanel, and Versace will satisfy your need for luxury goods. Read more on our Shopping page
The Marina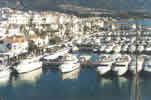 The focal point of Puerto Banus is the marina. It has berths for 915 boats, including those of the King of Saudi Arabia and several of the world's wealthiest individuals. Bars, boutiques and nightclubs fill the streets that lie just behind the waterfront. There is beach on each side of the marina.
For those that like boats, the marina has moorings for ships and boats from 8 to 50 meters. The marina's depth ranges from 3 to 6 meters and is as much as 7.5 meters at its entrance. The marina covers a surface area of 15 hectares. Many of the yachts moorings benefit from an unobstructed view of one of the coast's most notable landmarks - La Concha mountain.
Something for Everyone
Banus has fast become one of the trendiest and most popular holiday destinations anywhere in Europe. One of the main attractions is that it has something to offer everyone. From Stag and Hen Dos to Champagne Parties there is a place and a venue to meet every requirement and budget.
Want to Party?
Then Puerto Banus is the right place...as long as you have plenty of euros. There are numerous clubs right in the heart of Puerto Banus and some popular ones just a few minutes drive away. All the clubs have different party nights, music so give them a call to see what's on. Some charge an entrance fee and you pay for drinks, some charge one price and all drinks are included...it depends. But expect it to be expensive! You get what you pay for!
NightClubs and Bars
Centro Plaza
It is located five minutes away from Puerto Banus, at the entrance of Nueva Andalucía. Go there for street markets and great views.

Images of Puerto Banus
More images of Puerto Banus on our Pinterest Puerto Banus board.
Big Game Fishing
If you are a Big Game Fishing enthusiast or an amateur who loves a day out on the water away from the hustle and bustle of Marbella, Puerto Banus has something to offer everyone who fancies wielding a fishing rod.
The Costa del Sol is considered to be one of the most varied Big Game Fishing places in the world due to the influence of the warm currents of the Mediterranean Sea and the wide variety of species that can be found here. Temperature breaks are created where bodies of warm and cool water are pushed up against each other and this brings with it clouds of bait-fish which the big predators hunt for with a passion. The local Mediterranean and Atlantic waters have seen several types of Sharks plus others species such as Marlin, Swordfish, Tuna, Bonitos, and others. Fishing in Marbella & Puerto Banus