Find the Best Location for your Marbella Holiday
Choose the right location
All types of holiday are available in Marbella. Choosing the right location will ensure you get the best out of your holiday. Your choice will depend on your budget, your interests, your favourite activities, access to a vehicle.... Here is some information about each area to help you find that ideal spot.
Marbella Golden Mile - Sophistication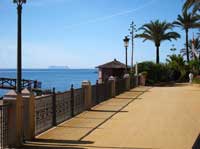 Those that have visited the beautiful, vibrant resort of Marbella, know that one of the best places to be is on either the front line or second line of the Golden Mile. The Golden Mile runs between the tranquil traditional Andalucian town centre and the lively port of Puerto Banus. Transport links along the Golden Mile are excellent. There is no need for a car. Drop down on to the Paseo Maritimo (promenade) and stroll left for Marbella Old Town or right for Puerto Banus. Some of the best hotels and restaurants are located on the Golden Mile. There are lots of beaches in the area having all the facilities including showers, public services, watch towers, life guards and first aid. Water sports such as windsurfing, water skis and pedlos are available.
Rent our apartment on the Golden Mile
Marbella Town Centre - Andalucian Charm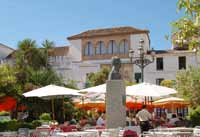 Marbella is a charming town with lovely shops, bars and cafes, leafy parks and the palm tree lined marble promenade. Being close to Los Naranjos Square (Orange Square), situated in the centre of the city, would be ideal. It is surrounded by notable buildings and attractions. Plaza de los Naranjos was built in a classic renaissance style. It is the perfect place to walk and re-live the historic times by visiting the historic fountain and a chapel built in the 1400s. As you walk along the many narrow streets you will enjoy shopping at the small interesting shops. There are some great affordable restaurants in this beautiful Andalucian town. The paseo maritimo is wonderful to walk along at sunset, and it has about 40 restaurants there. Great transport links from here.
Puerto Banus- Party Time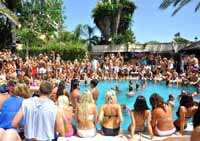 The nightlife in Puerto Banus is perfect for those looking for a party atmosphere and some good nights out. Puerto Banus is known as the playground of the rich and famous, and the summer months are simply one long party. People talk about going to Marbs but what they really mean is that they're off to party in Puerto Banus. The Spanish equivalent to St Tropez, it's known as one of the most luxurious resorts in the world and boasts an endless supply of restaurants, bars, clubs and shops to keep you entertained throughout your stay. The marina is teaming with millionaires yachts and sleek super-cars.
The shopping in Puerto Banus is second to none and you can expect to find endless rows of boutiques and high-end designers, including Dior, Versace, Louis Vuitton and Bvlguri. The shopping scene here is all about designer labels.
In the summer months you'll be spoilt for choice when it comes to places to party, and if you're looking for a good few days of luxurious, hedonistic fun then you should definitely come to Puerto Banus.
Nueva Andalucia - Perefect for Golfers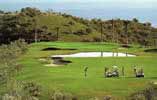 Nueva Andalucia has been built up fairly recently and contains mainly luxurious apartments and villas surrounded by gardens and trees. It is a highly sought after area for holiday makers. The architecture is typically Andalucian. Set mainly on a hill, many of the houses and apartments have spectacular views of the Mediterranean and beyond.
The area is surrounded by four top golf courses which makes it perfect for golfers. Las Brisas, Los Naranjos, Aloha Golf and La Dama de Noche golf clubs are right on the doorstep La Dama de Noche is floodlit making it a great place for a spot of midnight golf.
The entrance to the area is by the bullring behind the Puerto Banus Casino and the Andalucia Plaza Hotel. The bullring is an impressive structure and you may want to watch a bull fight, although not for the faint hearted. On Saturdays the bullring is the location for a vast street market with stalls selling everything from ornaments and decorative items to clothes and electrical goods. From the bull ring the road carries up into the Commercial Central Plaza that consists of a series of shops, a supermarket, bars, a gym and several restaurants. You are also spoilt for choice when it comes to restaurants and bars in the area, there's somewhere different to eat and drink every night of the holiday.
Nueva Andalucia has the perfect balance, set far enough back from the bustle of Puerto Banus to feel peaceful amidst the Sierra de Ronda mountain range and close enough to walk into the port as and when necessary.
San Pedro de Alcántara - Great Value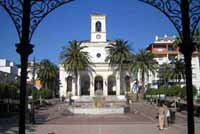 A few kilometres west of all the glamour and glitz of Puerto Banus is San Pedro de Alcántara. It is just a few minutes drive to the natural beauty of the Sierra de Ronda mountain range and 20 km from the town of Estepona. Formerly an ancient farming community, especially famous for sugar cane, today San Pedro is an unspoilt pueblo that is so different from Marbella and Puerto Banus and has an appeal all of its own. The central plaza has a small but beautiful parish church. Around the church are narrow streets which have many intriguing small shops, pavement cafes and bars. Thursday is street market day and a a paradise for shoppers looking for a bargain or souvenirs. The beachfront can be reached via a pleasant walk from the centre of town along the Avenida del Marques del Duero. This is a particularly wide attractive avenue lined with palm trees. The promenade is ideal for continuing your stroll being modern and wide. It has several excellent chiringuitos specialising in fish dishes. San Pedro also has the last summer fair in Andalucia being in the second week in October.
The price of apartments here tend to be lower than in Marbella town or Puerto Banus.
Marbella East - Hit the Beach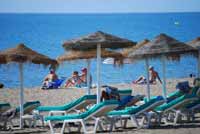 Marbella's best beaches are to the east of town. The stretches of yellow sand are lined with residential complexes and areas of sand dunes (some of the last remaining on the Costa del Sol). The sea is shallow for some distance so bathing is safe. Beach bars catering to all tastes and budgets are to be found along the sands. There are several exclusive beach clubs like Nikki Beach where luxury yachts are anchored offshore. These beaches are fairly crowded in the summer, but take a short walk away from the beach bars and parking lots and you'll find a less crowded spot for your towel. All amenities available - food, drink, lifeguards (mid-June to mid-September), parking showers, toilets, water sports.
Here are some areas you might like to consider:
Los Monteros is a leisurely 15 minutes driving from Marbella. There are both beachside and mountainside developments here, including a few famous residences; such as that belonging to Antonio Banderas. It is very green, and the villa plots are large, offering a natural location with lots of privacy. There are also some lovely gated complexes on the hillside with sea views.
El Rosario is a leisurely 15 minutes driving from Marbella. It is an urbanisation that has grown over the years becoming a very sought after area with excellent local facilities, including, tennis club, restaurants and beauty salons. Just down the road are white sandy beaches and a selection of excellent beach bars.
Elviria is a leisurely 15 minutes driving from Marbella. It has two supermarkets, doctor, banks, restaurants and bars. Elviria provides everything a holidaymaker needs. The challenging Santa Clara golf course is in the area, as well as the world famous Nikki Beach bar. The beachside of Elviria is very exclusive.
Cabopino is a leisurely 20 minutes driving from Marbella. is a very popular, small but prestigious marina. It has a number of excellent restaurants and it's beach next door has been made a protected area due to the wild sand dunes behind it.
Camping Cabopino is a leisurely 20 minutes driving from Marbella. Camping Cabopino is surrounded by pine woodland and is close to a sandy beach, It is close to the holiday village of Calahonda and not too far from Marbella with golf courses, restaurants and shops etc. There are good quality facilities and activities. There are two on-site restaurants to enjoy (Indian and Italian) which are also open to the public.
Marbesa is a leisurely 25 minutes driving from Marbella. It is popular due to its peaceful beach area.
In the Mountains - Take in the Views

If its luxury you're after, head for the hills. Most of the rentable high quality apartments and villas tend to be up in the hills. These can be quite far out of the town, so a car is definately required.