Trip from Marbella to San Pedro de Alcántara
Away from the glitz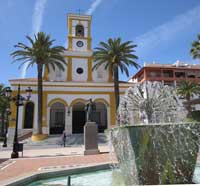 A few kilometres west of all the glamour and glitz of Marbella and Puerto Banus is San Pedro de Alcántara. Formerly an ancient farming community, especially famous for sugar cane, today the centre of San Pedro remains an unspoilt pueblo that is so different from Marbella and Puerto Banus and has an appeal all of its own. One of the most untouched corners of the Costa del Sol. The central plaza has a small but beautiful parish church. Around the church are narrow streets which have many intriguing small shops, pavement cafes and bars. There is a nice array of shops selling specialist items from fashion to babies clothes
Childrens Play Area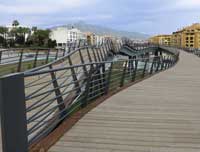 The A7 that once used to pass right through the town has been put thought a tunnel. A wonderful promenade has been built over it. This area features a wobbly bridge that pedestrians use to avoid the traffic. It really has to be seen to be believed. There are plenty of childrens playgrounds in this area with up to date swings and climbing frames etc.
Beachfront and Promenade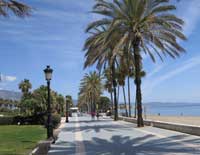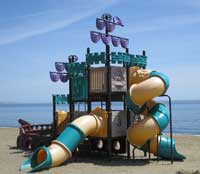 The beachfront and promenade can be reached via a pleasant, but long (15-20 mins), walk from the centre of town along the Avenida del Marques del Duero. The promenade is long modern and wide and connects to Puerto Banus. In fact it is part of the new promenade connecting Marbella Town to San Pedro. This is a glorious walk between beach & superbly kept gardens with palms, cacti and flowers and even parrots and other exotic birds. It has several excellent chiringuitos specialising in fish dishes, coffee shops, ice cream kiosks, toilet blocks, exercise equipment and benches to relax on. An absolutely beautiful spot to relax with a variety of activities to suit all ages. The children really appreciate the play areas on the beach with climbing frames. This is a very nice beach & well worth a visit with plenty of free parking too.
Markets and Fairs
Thursday is street market day and a a paradise for shoppers looking for a bargain or souvenirs. San Pedro also has the last summer fair in Andalucia being in the second week of October.
Getting there
Catch the bus (No. 79) to Estepona from Marbella Central or right outside our complex on our side of the road. A bus comes about every 30 minutes. Journey time is about 25 minutes. Get off when you see the wobbly bridge and town centre.
Have a nice Day
Another great trip from our apartment in Marbella