Getting About in Marbella
Walking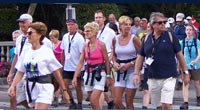 Both Marbella and Puerto Banus are compact so walking around them is easy. In Marbella you have the Old Town with it's Adalucian charm, beautiful parks and the famous exciting seafront. In Puerto Banus you have the restaurants, clubs, top class shopping and the swanky harbour. Get some walking maps from the local tourist information. There's one in the Old Town and one on the promenade in Marbella, and in Puerto Banus you will find the Tourist information in the Plaza De Antonio Banderas.
One of the best walks is along the Paseo Maritimo (promenade) between Marbella and Puerto Banus. See our information page about the Golden Mile walk in Marbella.
Get more general information about walking in Marbella.
Article continues below Ads ↓
Cycling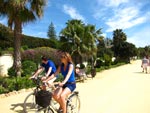 What a fabulous place for cycling.
For those who want a leisurely ride, the Paseo Maritimo is ideal. So much to see and absolutely flat between Marbella and Puerto Banus. Pass the 5 star hotels, the pine forests, the beautiful sea vistas, the parks, Roman remains and small restaurants and churingos, finishing in the brash harbour of Puerto Banus with its expensive cars and yatchs.
If you want exercise, head for the mountains. La Concha mountain and Refugio De Juanar provide ample tracks for the ultimate mountain bike experience
Get more information about cycling in Marbella.
Bus

The local buses provide a easy and cost effective mode of travel with quick and efficient links along the coastal route between Malaga and Estepona and as far as Gibraltar.
Noteable bus lines are:-
Route L1 - Linking La Canada shopping centre to Hypercor shopping centre in Puerto Banus. This bus passes through the Old Town, Almedra Park, Marbella Central, the Golden Mile and Nueva Andalucia.
Timetable for L1 | All Urban Routes
Route 220 - Linking Marbella Bus Staion to Fuengirola. This bus passes through Marbella Central, Almedra Park, the Old Town and then runs along the Autovia Mediterraneo through east Marbella, Hospital Costa del Sol, Cabo Pino, Calahonda, La Cala de Mijas and El Faro.
Check out our trip to Cabo Pino page.
Timetable for L220
Route 79 - Linking the Bus Station to Estepona. This bus passes through the Old Town, Almedra Park, Marbella Central, the Golden Mile, Nueva Andalucia (for Puerto Banus), San Pedro, Guadalmina and along the Autovia Mediterraneo (sea front) to Estepona.
Check out our trip to Estepona page.
Timetable for L79
Boat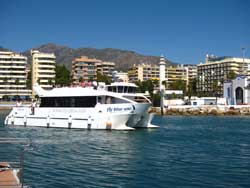 Take the Fly Blue catamaran and cruise from the Marbella port to Puerto Banus. It takes about 20 minutes and gives brilliant views of the Golden Mile coastline. Step straight off your boat from Marbella right into the heart of Puerto Banus. Reverse direction also possible. See our full description of the Marbella boat trip.
Taxi

There are plenty of taxis in Marbella. If you can't a taxi rank, a passing taxi will be happy to stop and pick you up. Tariffs vary between day and time but they are still good value. Marbella taxis use meters. Some taxis have credit/debit card machines, but have cash ready in case they do not.
Taxi Sol taxi reservation with all the guarantees of an official Marbella taxi transfer, without waiting or queuing, using only vehicles authorised by local transport authorities at a previously arranged tariff and no surprises. We use them when in Marbella and the come almost immediately. Taxi reservation 24 hours a day, 365 days a year. Call +34 952774488 or book on-line. Typically fares are about 3.50 euros to start and then 1 euro/km. That equates to about 12 euros from Marbella to Puerto Banus
Taxi Ranks: Convenient taxi ranks are:-
Marbella:
1. Central Taxi Stand, Av. Puerta del Mar, Park Alameda.
2. Corner of Calle del Calvario, Av. Ricardo Soriano.
Puerto Banus:
1. Taxi Hipercor (Corte Ingl's).
2. Junction of A. Julio Ingesias, Av. Jose Banus.
More Info: Map of Taxi Ranks
Hire Car

Unless you want to visit out of the way places like Benahavis, Ronda, Mijas etc, a car is not really neccesary. The prices usually look cheap but do not include full insurance. Medium sized car day price is approx 22 euros - with full insurance 84 euros. Baby seat 13 euros. Or for a week 57 euros - with full insurance 169 euros , baby seat 32 euros. We use Marbesol which is on the Golden Mile, close to our apartment.
Marbella Tourist Train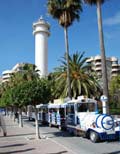 There is a local tourist shuttle train which travels around main roads of Marbella. It is a "train" of about two to four carriages pulled by a road vehicle designed to resemble a steam train. It is an excellent service that shuttles passenger around town of Marbella. This is an inexpensive means of getting around the area of Marbella running on a half-hourly basis.
Horse & Carriage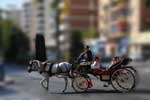 Marbella is famous for its horse and carriage rides around the town. It's a wonderful experience. Perhaps you are looking for a romantic place to propose. You just have to find the right moment.
Segway Tours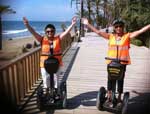 Marbella to Puerto banus along the Paseo Maritimo (Promenade) on a Segway. Learn to ride in under 2 minutes and suitable for all ages. You'll be amazed how easy a Segway is to manage. Enjoy this new way of sightseeing with these wonderful tours. Have a beautiful day and do something unique for that special occasion. Marbella Segway Tours