Marbella Tennis Facilities
All-year Outdoor Tennis
Mild winters and beautiful spring and autumn weather makes the Costa del Sol perfect for all year round tennis.
Tennis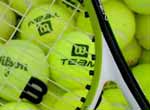 The great number and variety of facilities, the privileged climate that allows you to play all year round, and the prestige of its tennis clubs have definitively made Marbella a first-call tennis destination.
Tennis is a game that anybody at any level and any age can play and enjoy. The price for court and equipment is also very reasonable.
Paddle Tennis
Paddle tennis is also popular in Marbella. The court is smaller and the net is lower. It is played with a solid paddle and a soft ball. The smaller court size creates a fast and reaction-based game.
Facilities
Most of the better hotels(three star and above) in Marbella have tennis courts included in their facilities. There are also private clubs. A one-hour private tennis class could cost between 30 to 50 euros but for group classes it can be as low as just ten euros.
Many apartment complexes also have tennis courts. Our apartment on the Golden Mile has a tennis court that is free to use and we provide balls and racquets.
Article continues below Ads ↓
Tennis Clubs
Just a sample of the magnificent facilities available in Marbella.
Puente Romano Tennis Club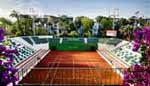 Hotel Puente Romano's Tennis Club is one of the most important and professional clubs in Southern Europe. It is a member of the Royal Spanish Tennis Federation (Spanish: Real Federación Española de Tenis) which is the national governing body of tennis in Spain. It has first class facilities including a gym, massage room, activity room, sauna and Turkish bath. It host official tennis tournaments such as the ATP, WTA and world famous Davies Cup. It is located in the heart of the Golden Mile in Marbella. It has a tennis academy with coaching for all ages, starting with their "mini-tennis" groups (for children over 3) up to adult lessons.
Puente Romano Tennis Club
Miraflores Tennis Club

Located halfway between Marbella and Fuengirola, Miraflores tennis club has all-weather courts. Their round-robin Sunday tournaments are great fun. Just turn up and play. Play four or five sets in a friendly but competitive atmosphere to perhaps win a T-shirt. Play doubles with a partner of equal ability, matched by the club. There's a nice little bar to have drinks and snacks afterwards.
Miraflores Tennis Club
Royal Tennis Club Marbella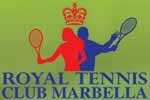 The Royal Tennis Club Marbella was founded 40 years ago by a group of tennis professionals with wide experience in tennis organisation and management. The tennis club is located near Marbella in a beautiful, coastal area of El Rosario. The club is renowned for its clay tennis courts made of tightly packed earh, which are considered to be the best in the entire Costa del Sol. The tennis club has internationally known tennis players such as J.C. Ferrero, D. Ferrer, A. Kuznetsov, J. Acasuso, Emilio Álvarez and others. Many international tournaments including DuelodeLegiones´08 Spain against Argentina have taken place in their tennis club. They offer 8 clay tennis courts and 1 hard court. Professional night lighting allows you to enjoy playing tennis or paddel at any time! They offer a wide range of high-quality training programs with their professional trainers.
Royal Tennis Club Marbella
Don Carlos Tennis & Sports Club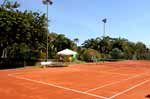 The new Don Carlos Tennis & Sports Club gives a whole new meaning to social club where all members of the family participate in activities and practice their favourite sport. It encourages a healthy lifestyle in the open air and is known for its excellent service, the new facilities, the technology used and the welcoming atmosphere. It has clay courts, 2 Rebound Ace Courts, a Fitness Centre and an open air multi-sport game court. Their team is made up of the best professionals in the services and sports. The services are complemented with a boutique, equipment rental, strings service, a bar/restaurant and a body assessment service.
Don Carlos Tennis & Sports Club
Club de Pádel y Tenis Nueva Alcántara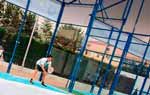 The Club has 11 splendid paddle courts on artificial grass. Five of the courts are enclosed in glass. They have a centre court where international, national and regional tournaments are held. The Club also has 4 superb tennis courts where various provincial tournaments take place throughout the year. Their school caters for more than 200 students at all levels. It also has a fitness centre and dance hall providing courses in Ballet, Postural Correction, Children's Ballet, Yoga, Cardio & Maintenance, Zumba, Fencing, jazz dance etc.
Club de Pádel y Tenis Nueva Alcántara
Manolo Santana Racquets Club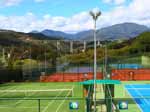 They are the only sports club in the Costa del Sol with 3 levels of 'Grand Slam': grass, clay and plexi-pave. They have six courts that will delight lovers of tennis being in a natural setting with amazing mountain views. Their courts have seen many renowned players but they welcome all tennis enthusiasts and professionals looking to train and have a fun time with friends. They have four paddel tennis courts with artificial turf where it's a real pleasure to play. Do not worry if you have no friends to play paddle, they will organize daily games of all levels!
Manolo SantanaRacquets Club
Tennis Brothers Marbella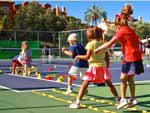 Tennis Brothers Marbella was founded by Bernard & Frank Frances coming together from Brazillian and French tennis associations. They have more than 30 years of professional experience playing in the ATP worrld tennis tour and the professional padel tour. They have coached ATP players and top ranking padel players. They speak English, French, Spanish, Russian and Portugese. Let kids have fun while they learn tennis. You'll be surprised what yours kids can accomplish on the tennis courts. When you're looking for a tennis club with professionals coaches for your child, check out Tennis Brothers Marbella, they'll have plenty of opportunities.
Tennis Brothers Marbella
Klaus Hofsäss Tennis Academy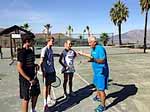 With a view of the Costa del Sol on the one hand and the Sierra Nevada on the other, it is a unique place. The Tennis Academy was founded in 1984. Athletes and recreational tennis players alike will find optimal training conditions here. The Hofsäss tennis boarding school allows students to stay in accommodation with a family atmosphere and enjoy the great facilities. Bungalows, clubhouse with restaurant and salt water pool give holiday makers the chance of regeneration and sport in healthy surroundings.
Klaus Hofsäss Tennis Academy
Belair Tennis Club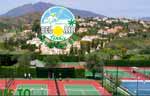 Tennis players are happy here because they make them feel like they're at home. They can give an intensive training program to any professional player on tour, as well as coaching kids, juniors or adults. They can arrange your perfect tennis and padel holidays.They also organize matches at any time for anybody, singles & doubles, tennis & padel. They give a solution for all levels and ages in a great club atmosphere! Bel-Air Tennis Club is proud of its good atmosphere as well as the full program available for all categories and ages.
Belair Tennis Club