Marbella Museums, Art Galleries & Culture
Marbella Arts Scene
The arts scene in Marbella is now very well developed, having some top art galleries and art museums. These include the popular Municipal Exposition Gallery (Galeria Municipal de Exposiciones) and the Casa Grande gallery, both of which attract a range of changing exhibitions by artists from all over the world.

Marbella International Arts Festival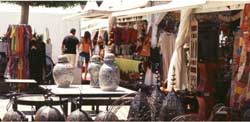 The Festival International de Arte Marbella was founded in 2009 by a dedicated group of Spanish and international residents, with the support of Marbella Town Hall. It is one of the fastest growing cultural events in Marbella, Spain
The event has now grown into one of the most important street art festivals in southern Spain and a major visitor attraction. Normally taking place in June, there is a celebration of artistic talents from many different nationalities. Some artists live in Marbella whilst others travel from around the globe to participate, united through the passion of creativity and art. The centre of the city of Marbella is filled with stalls where artists exhibit their work and interact with the public . The event is accompanied by performances of jazz, blues, opera and dance which continue until late each evening. Typically 100 artists take part, and the event will be visited by about 20,000 people. However, it grows every year.
More information: Marbella Arts Festival
Marbella Film Festival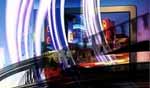 The Marbella Film Festival is the flagship project of New World Trust, an organisation created to provide support for talented artists across the globe. The objective of the trust is to provide start up capital for independent art projects, offering hands on support in all commercial aspects. The support system includes assistance in marketing, project and financial management, business angles, agents and distribution networking, and trying to overcome any other obstacles which potentially hinder the artist's ability to create.
Marbella Film Festival
Gallery Houses of Art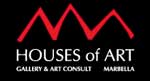 Gallery Houses of Art works to promote high quality contemporary art. The work of important international artists who feature in international collections and museums is displayed as well as emerging and mid career international artists. At the same time , a select group of young artists is supported from an early stage by exhibiting their works, collaborating with other international galleries giving them international exposure. They provide assistance for collectors at all levels in the primary and secondary market and provide a detailed provenance of all works of art exhibited.
More information: www.housesofart.com
The Municipal Exposition Gallery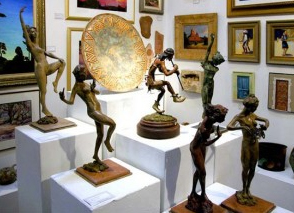 The Galeria Municipal de Exposiciones Marbella is found underneath the City Council in on Carmen Street. Its great location amongst the winding streets and white washed walls of the old town makes it an ideal place to visit on your trip to Marbella. You will find many great paintings by renowned artists from around the local regions as well as other Spanish and international artists. There are also some exquisite sculptures , photographs and ceramics to enjoy and view. Its central location and collection of great pieces means that the museum can get busy during the summer months so make sure you have enough time to enjoy the works thoroughly. This is open throughout the year, but is closed during the siesta period. Admission is free.
Web Reference: Municipal Exposition Gallery
The Contemporary Engraving Museum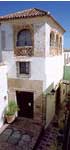 The Museo del Grabado Espanol Contemporáneo has a permanent exhibition of 3,000 engravings along with visiting exhibitions on the ground floor of this historic building. It is one of Marbella's most important museums. It is housed in the old Hospital Bazan which dates back to the 1500s. There are many historic and elaborate engravings, together with art works by famous artists, such as Picasso and Miro, amongst others Guided tours of the exhibitions are available and there is also an engraving workshop. There is an admission: charge but children are free
For more information: mgec.es
Bonsai Museum

One of Marbella's most unusual museums, the Museo del Bonsai is situated in the vast Parque Arroyo de la Represa and contains a large collection of meticulously groomed miniature trees. It was the brainchild of Miguel Angel García who still takes care of this fantastic little garden-museum, featuring the best collection of Bonsai in Europe and also the best collection of wild olive trees in the world With many surprisingly large bonsai trees, rock plantings, and landscaped areas it has a real oriental feel. The Bonsai Museum also features a number of naturally dwarfed trees which were collected from the nearby mountains, some in danger of extinction like the Pinsapo Pine. Admission is free
Web Reference: Bonsai Museum
Casa Grande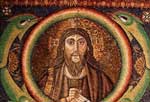 Casa Grande is one of the most beautiful art galleries in Marbella, displaying an extensive collection of Byzantine art, crafts and sculptures from around the 4th Century. In addition, the gallery hosts changing exhibitions of paintings and sculptures.
The visiting exhibitions at Casa Grande feature internationally acclaimed artists from Spain and abroad. The gallery is spacious, allowing for more exhibitions at one time: there's always something new to see. Casa Grande is situated in Edificio Riomar, Urbanización Rio Verde Playa. It was founded at the end of the 20th century so is a fairly new addition to the Marbella arts scene. Admission is free
Web Reference : Casa Grande
Museum Ralli

Museum Ralli in the Urbanization Coral Beach of Marbella is a pleasurable visit, where visitors only enjoy observing those pretentiously elegant artistic objects. Moreover, there is no booklet or audio guide inside the museum. This is because, as per the words of the founder, the "purpose is to enjoy art and not to study it". The most important collection of latinoamerican art in Europe. Argentinian paintings and European sculptures from Dalí en Maillol. European paintings also from Max Ernst, Miró, Dalí,… in a magnificent building. Admission is free. Ralli Museum Marbella
Teatro Cuidad de Marbella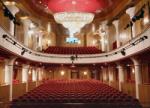 The City of Marbella theatre is a municipally-owned theatre. It was opened in July 2001 and has had a constant flow of theatre plays, music, dance, flamenco, opera, etc. ever since. The Marbella International Opera Festival is among the festivals the City Theatre of Marbella holds each year.
Plaza Ramón Martínez, 3
Black Box Theatre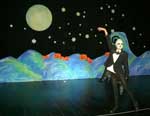 A space for creative freedom to research and develop new visions and artistic commitment regardless, created by artists to art lovers. A vital platform for new artists to the community by offering experiences in theater, music, dance, art and literature. An interactive learning space that educates, challenges and inspires children and youth, cultivating the public and the artists of the future.

Auditorium of Constitution Park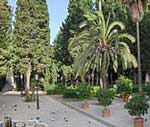 A most tranquil and beautiful park close to the seafront. It is a favourite resting place for locals and visitors alike. It has a children's park, an outdoor auditorium and a small astronomic observatory. There are many colorful and seasonal flowers and it is a favourite site for summer festivals, fiestas and concerts.

Mechanical Art Museum
Sculptures made from second-hand car parts by Antonio Alonso.
Located at: El Ingenio Cultural Centre, Calle La Morena, Marbella
Tel: 952 786 968 the Ingenio Cultural Center
Cultural Quarter for Marbella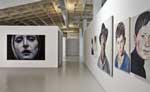 A growing number of artists and art galleries are slowly turning the town's industrial district into a cultural hotspot. It already boasts two impressive, modern art galleries, Galería Yusto/Giner and the Polígono Gallery, that opened in the last three years and are steadily drawing people away from the centre of town.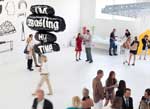 There are many artists and musicians moving to the area. Sculptor and musician Manolo Olarte has underground concerts at his studio, which are a lot of fun. His percussion improvisation band, La Contenta, make their own instruments, and enjoy good reviews. The sculptor Nimrod Messeg converted his studio here into a personal gallery and the Painter Maria Moreno has her studio here. There is also artist Javier Martin, a French sculptor working in wood and Panorama 187, a project of artists' studios where they share studios and create together.
Public Art
No need to go to museums to see great art in Marbella. The streets are full of it. It even has a plaza dedicated to the works of Salvador Dali.
See our Public Art page.
PRIVATE GALLERIES
Here is a selection of some private galleries.
Notable private art galleries in Marbella include the Paco Muñoz Gallery, El Catalejo, Pedro Peña and the Sammer art gallery.
The Paco Muñoz Gallery, calle Remedios, 7. An exhibition by resident artists is on show Monday to Saturday from 10.30 to 14.30 and 18.00 to 22.00
Galeria H, Generalife, Villa Q1, Nueva Andalucia. Open Monday to Friday from 11.00 to 14.00 and from 18.00 to 21.00.
El Catalejo. Urbanisation Marbella Real on the main road opposite Area Bank features year-round exhibitions by well-known international artists. Open Tuesday to Saturday between 10.30 and 13.00 and 18.00 to 21.00 and on Monday evenings between 18.00 and 21.00.
Sammer Gallery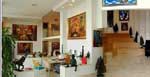 At the Sammer Gallery in Las Terrazas de Banus in Puerto Banus, owner Sam Benady specialises in promoting young Spanish artists as well as exhibiting works by leading international artists. Open Monday to Saturday - 10.00 to 15.00 and 17.00 to 21.00
www.sammergallery.es
Galeria Lecrim, calle Miguel Cano, 6. Open Monday to Friday 11.00 to 14.00 and 17.00 to 21.00.
The Eurogaleria Llamas in Avenida Ricardo Soriano, 49. Open Monday to Friday from 10.00 to 14.00 and 17.00 to 21.00.
The Casino de Marbella. On the lower floor of the Bajos del Hotel Andalucia Plaza in Nueva Andalucia has regular exhibitions throughout the year. Open every evening from 18.00 to 04.00. (Don't forget to take your passport)
The Art Point Gallery. In Puerto Banus is only open on Sundays between 20.00 and 22.00. Information about forthcoming exhibitions is available from www.artpointgallery.com. tel. 952 81 84 48 or gallery 952 81 90 61 or e.mail erhe@vnet.es.
Pedro Peña.


An art Gallery situated in Centro Comercial Tembo, Blq. B, Local 1, CN. art gallery PENA PEDRO ART GALLERY is located in Marbella and was inaugurated in August 2001.
Specializing in contemporary art, has exhibited widely, both collectively and individually, in their funds with works of art, paintings and pictures of artists as relevant in contemporary art as Jaume Amigo, Francis Bacon, Miquel Barceló, Enrique Brinkmann, Luciano Castelli, Eduardo Chillida, Martín Chirino, José Manuel Ciria, Antoni Clave, Sonia Delaunay, Antonio de Felipe, Luis Feito, Roberta González, Josep Gunivart, Hockney Davis, Anton Lamazares, Cveto Marsic, Matarranz Mariano, Victor Mira, Joan Miró, Lucio Muñoz, Max Neumann, Saura, Daniel Senise, José María Sicilia, Antoni Tapies, Frank Thiel, Manolo Valdés, Bernar Venet, Darío Villalba, among other . Pedro Pena has Quum Art Gallery Artis, a shop specializing in digital printing and photography, which allows graphic works and paintings with the best quality large format using various media such as paper, canvas, acrylic, glass, metals (aluminum, steel steel, Corten steel, etc.), wood, cardboard ...
www.galeriadeartepedropena.com

Akelarre Gallery. Edificio Santa Catalina in Urb. Fuente Nueva is open weekdays from 11.00 to 13.30 and from 17.00 to 21.00. There is also a workshop on the lower floor where would be artists can learn painting, sculpture etc. (tel. 952 78 65 04).
Punzmann Gallery. It is situated on the CN-340 of San Pedro de Alcántara, Avenida Luis Braille, 4. Tel: 952 787 787
Fine Art
Fabien Fryns Fine Art. Fabien Fryns has been active in the contemporary art world in Marbella and elsewhere since 1986, primarily as a collector and advisor and collected and placed works by Miquel Barcelo, Jean-Michel Basquiat, Louise Bourgeois, Robert Combas, George Condo, Adam Fuss, Nan Goldin, Anthony Gormley, Peter Halley, Keith Haring, Henry Hudson, Richard Hudson, Anish Kapoor, David LaChapelle, Robert Mapplethorpe, Shirin Neshat, Julian Schnabel, and Andy Warhol among others.
Fabien Fryns Fine Art now acts solely as advisors to private collectors and institutions with a mission to contribute to the cross-cultural exchange between China and the West.
Fabien Fryns Fine Art
See available works on ArtNet

Like to try your hand at art?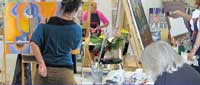 Estudio 61 is the professional art studio in Marbella. Have fun (socially and professionally) painting for artists of all levels. You can paint in oils, watercolour and acrylics. All your art materials are available. Children's classes also available.
Situated in the centre of Marbella just off the main 'high' street Calle Ricardo Soriano - down the street with 'Mango' on the corner. (Calle Notario Luis Oliver) The studio is open 5 days a week - Monday to Friday - 10.0am-6.0pm with some late nights and weekends.
www.estudio61.com