Stag Parties in Marbella and Puerto Banus
Ideal destination for Stag Parties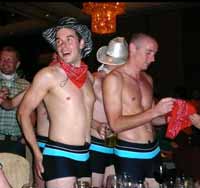 Marbella and Puerto Banus are the number one Stag party destination. The "No carbs before Marbs" TOWIE crowd and other TV and sporting celebrities regularly visit this area as it is the place to be seen and have fun in. This is where its at! Whether you are looking for an action packed adventure, pub crawl, party nights or sunning on the beach, Puerto Banus and Marbella have it all! Only 5 minutes by cab between the two, you can make the most of both worlds.
Puerto Banus is renowned for its flashy sports cars, super yachts, luxury beach clubs and plenty of International restaurants, bars and clubs. And with the addition of scantilly clad chicks, sun, sea, sand and the local San Miguel beer and Sangria, you can't ask for more!
Marbella on the other hand offers a more cosmopolitan vibe and International ambience. There are still plenty of places to party hard and drinks prices are much cheaper here. A trip to Puerto Banus one night though is a must!
Article continues below Ads ↓
Daytime Activity Ideas
Boat Charter - Why not charter a boat for a more upmarket Marbella stag weekend. Embrace the playboy lifestyle cruising the Costa del Sol coastline in a luxury boat.
Buggy Adventure - Get off the beaten track on your Marbella stag weekend. A buggy adventure will take you up into the hills for some exciting off-road driving.
Dolphin Spotting - If the groom's into the great outdoors and wildlife, add dolphin spotting to his Marbella stag weekend.
Golf - Costa del Sol is the home of world championship golf. The Costa del Sol boasts over 30 competition standard courses Well-designed, immaculately kept courses with fantastic fairways, shimmering lakes and obstacles to keep serious golfers challenged. But there is also pitch and putt and 9 hole courses if you just want a bit of fun.
Horse Riding - See the Costa del Sol in a totally different light with horse riding trek up in the hills of Andaluc'a. Seasoned riders and novices are catered for. There are various routes available to suit your skill level.
Outdoor Karting - Get the proper Grand Prix experience. Go head-to-head with your mates and find out once and for all who really is king of the road.
Powerboat - Get a massive shot of adrenaline with a powerboat trip. When it comes to wet 'n wild rides, the powerboat leads the fleet.
Quad Biking - A cut above your average trek. Trek in the hills of Andaluc'a or through the spectacular Guadalhorce Valley. Get the blood pumping! See the lush gardens, ancient pine trees, impressive plains and olive groves of the Guadalhorce Valley up close.
Sphering - Defy gravity! Up for doing something bonkers and bit different? Roll down a hill at top speed in a huge inflatable ball. Wow!
Wakeboarding - Blast across the surface of a stunning lake at a cracking pace. Impress the local ladies with your wakeboarding tricks. Spend a couple of hours messing about on the water.
Segway Tours - Marbella to Puerto Banus along the promenade. Enjoy a new concept of sightseeing with the wonderful guided tours using a Segway. The Marbella Segway Tour is approximately 90 minutes.
Evening Activity Ideas
Lap Dance Clubs - You are in the sun-kissed spot favoured by playboy millionaires so send the groom off in style. Enjoy the show. We're talking wall-to-wall tanned, toned and well-endowed ladies on a mission to get down 'n dirty. It's the last chance the groom gets to openly ogle bendy beauties. Don't deprive the poor chap!
Dinner and Club - A Marbella stag weekend calls for something better than a standard bar crawl! If the groom wants an upmarket stag weekend, dinner and club entry will fit the bill without breaking the bank. Fine food, quality booze, top tunes and beautiful women
Tapas Meal - Man can't survive on sangria alone. A Marbella stag weekend without a tapas meal would be like Christmas without turkey. Use a traditional bodegas and get stuck into authentic Mediterranean dishes bursting with colour and flavour. Try homemade meatballs, spicy potatoes, garlic mushrooms, massive olives, goat's cheese, seafood and ham. Tapas goes down a treat with an ice cold beer or a rich red Rioja.
Search for Stag activities in Marbella