Marbella Starlite Festival
Summer Heaven
During one month every summer, Marbella brings together a complete programme of unique concerts, cinema premieres, fashion shows, art exhibitions and a gastronomy from the five continents. The music excels with intimate concerts by international top artists such as Enrique Iglesias, Ricky Martin, Julio Iglesias, Tom Jones, Alejandro Sanz, Bryan Adams, Pet Shop Boys, Tonny Bennet, Malu and Alejandro Fernandez, among many others. Proximity between stars and the audience is a key factor at Starlite. It is a social affair where the stars are not just on stage, but also among the audience, dining, having a drink and enjoying a unique experience. Starlite is held in an old quarry in Marbella which has been turned into an open-air amphitheatre, a unique natural auditorium, with nature on it's doorstep.
Confirmed for 2016

This years festival starts on the 14 July and continues until 20 August. Confirmed artists for 2016 include:-
July
18 – Premios Platino; 22 – Lenny Kravitz; 24 – Frank Sinatra Tribute; 25 – Plácido Domingo; 29 – Lionel Richie; 31 – Village People
August

3 ‑ Melendi; 4 ‑ Julieta Venegas; 5 – Julio Iglesias; 6 – Roger Hodgson; 7 – Laura Pausini; 8 – Ana Belén y Victor Manuel; 9 – STARLITE GALA; 10 – Mago Pop; 11 – Sara Baras; 12 – India Martinez y Pitingo; 13 – Enrique Iglesias; 14 – Amaia Montero; 15 – Noche Movida with Alejo Stivel (Tequila), Nacho Campillo (TamTamGo!), Coti, Pablo Carbonell (Toreros Muertos), Nacho García Vega (Nacha Pop), Javier Gurruchaga and Rafa Sánchez (La Unión); 16 – Los Vivancos; 18 – Anastacia; 19 – Musical Queen; 20 – Alejandro Sanz; 22 – Andrea Bocelli
Exclusive Performances
Julio Iglesias, Andrea Bocelli, Alejandro Sanz o Enrique Iglesias have already selected it to give their only concerts in Spain.
The Venue

Its open air location, its amphitheatre shape with 60m high stone walls, its extraordinary acoustics and the closeness with the audience due to its reduced capacity make it the perfect place for unique and magical concerts. More than 60 "A" artists have already left their heart and soul on this stage and a growing number of them wants to be part of it and live the Starlite experience. Starlite´s auditorium is the place where you will be able to live the music as you have never done before.
Check out the Starlite Festival Website.

This years programme and tickets are available on-line at Koobin.com.
Starlite Lounge
This is the meeting point for the festival which hosts fashion shows, art exhibitions and movie shows projected onto a massive outdoor screen. Mouth watering food is sold in the gastanomic corner and restaurant.
Starlite Drive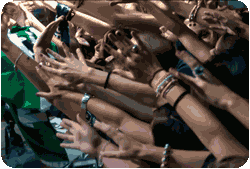 At 30 minutes past midnight, the lounge becomes a club. It is the only disco held in a quarry and hosts a selection of theme parties, DJ's and many musical and glamourous evenings.
Starlite Gala
The philanthropic one night Starlite Gala raises money that goes directly to various charities. Two noteable charities are "Ninos en Alegria", founded by Sandra Garcia-Sanjuan, and "Lagrimas y Favores", founded by Antonio Banderas. It is an event that many look forward to each year. The evening is organised by the Starlite Foundation which aims to improve education, health and living conditions of disadvantages families and communities.
How it started
Prince Alfonso von Hohenlohe, Julio Iglesias and Placido Domingo joined together thirty years ago to create an internationally recognized music festival. Only one concert by Placido Domingo in was organised in 1983. Three decades later, entrepreneurs Sandra Garcia-Sanjuan and her husband Ignacio Maluquer revitalised Starlite, consolidating the project and generated more than 270 jobs having an economic impact of 40 million euros in 2013. The project will go to five countries in three years, becoming the F1 of entertainment.