Andalucia's Golden Triangle
Andalucia's Quadrangle ?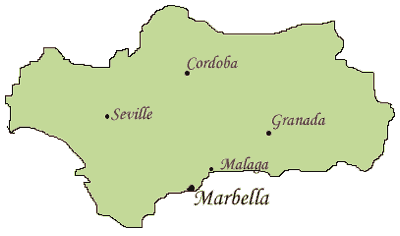 You may well have heard of Andalucia's Golden Triangle, but why not go one step further and experience Andalucia's Golden Quadrangle - Granada, Cordoba, Seville and Marbella.
Fly to Malaga and pick up your hire car. Drive to Granada. Cordoba and Seville. Stay a few days in each. Then drive to Marbella and hit the beach - the perfect holiday.
Distances:
Malaga to Granada - 131km - 1hr 30 min.
Granada to Cordoba - 200km - 2hr 9 min.
Cordoba to Seville - 139km - 1hr 32 min.
Seville to Marbella - 257km - 2hr 35min.
If you pick up your hire car from Marbesol, you can drop it off just outside our complex on the Golden Mile. Travel back to Malaga using the luxury coach service. - Travel Info
Granada
Granada is located at the foot of the Sierra Nevada mountains, at the confluence of three rivers, the Beiro, the Darro and the Genil. The Alhambra, a Moorish palace and citadel, is renowned for its Andalusian Islamic historical legacy. With its many cultural attractions Granada is a popular destination for those touring Spain.
Read more about Granada
Cordoba
Córdoba (called Cordova in English), is the capital of the province of Córdoba. An Iberian and Roman city in ancient times, in the Middle Ages it became the capital of an Islamic caliphate. It is thought that in the 10th and 11th centuries, Córdoba was the most populous city in the world and during these centuries became the intellectual centre of Europe.
Read more about Cordoba
Seville
Seville is the capital of Andalucía and it has more than 1.5 million people living in the metropolitan area. Seville lies on the banks of the Guadalquivir and is one of the largest historical centres in Europe as well as being the home of flamenco. Some of its architecture is based on the Mudejar style with buildings constructions such as The Alcazar that shows Arab influence in the design.
Read more about Seville